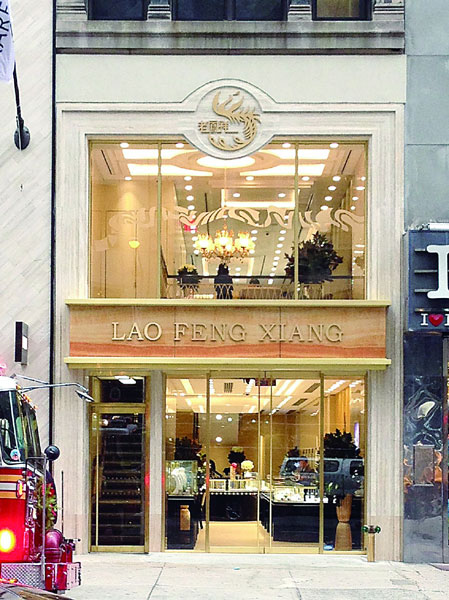 Big apple: Lao Feng Xiang opened a store on 5th Avenue in New York in December 2014.[Photo provided to Shanghai]
"The wholly owned by China First Pencil signals the new start of Lao Feng Xiang in the 1990s," says Wang Ensheng, spokesman of Shanghai Lao Feng Xiang Co Ltd. According to Wang, First Pencil as a listed company reached its peak at that time, and its healthy capital allowed it to enter into a new industry.
"Two choices were available to us, one was pianos and the other jewelry." The company decided jewelry was an emerging industry with a long term development outlook, and eventually chose Lao Feng Xiang, says Wang. Since 2001, the century-old brand has been on the fast track of development.
In July 2009, the parent company was restructured from China First Pencil into the Lao Feng Xiang Holdings Co Ltd, and both First Pencil and Shanghai Lao Feng Xiang are wholly owned subsidiaries.
Currently, Shanghai Lao Feng Xiang alone accounts for more than 95 percent of the parent company's sales revenue, and contributes 90 percent of the parent's profit. In the last decade, Shanghai Lao Feng Xiang expanded from a few dozen branches to more than 2,800 in 2014.
Since 2001, Lao Feng Xiang's sales revenue soared 45 times to 32.98 billion yuan ($5.29 billion) in 2013, accounting for 11.34 percent of the market share, and its profit surged 218 fold. Even in the industrial low period of 2014, Lao Feng Xiang maintained growth in both sales revenue and net profit.
Diversified products Originally a gold accessory retailer, up to 90 percent of Lao Feng Xiang's products are made from gold. "Over the years, we are continuously diversifying our product lines,"says Wang.