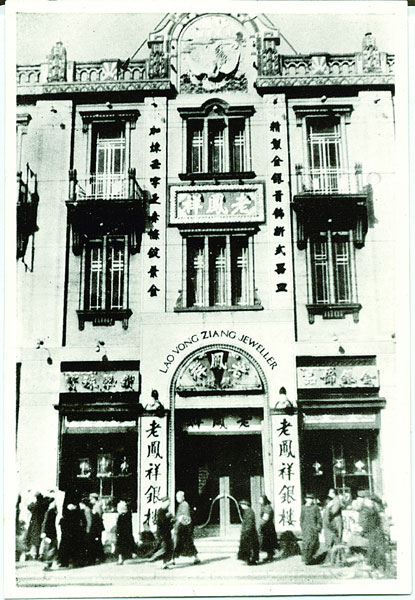 Time-honored brand: The Lao Feng Xiang storefront as it once looked.[Photo provided to Shanghai]
Currently, Lao Feng Xian offers accessories made of gold, silver, platinum and diamond. It has launched a series of new products made from white jade, emerald, pearl, gems and enamel, as well as tourism souvenirs, craftwork and art collections to attract a wider range of customers.
Overseas expansion The ambition to move into overseas market started in 2003, when Lao Feng Xiang sent design and management teams to the jewelry Mecca's of Italy, Switzerland, Spain, Germany and Japan to learn the latest trends in jewelry design and development.
In January 2012, Lao Feng Xiang opened a Hong Kong company, setting the cornerstone of overseas development. In August that same year, Lao Feng Xiang opened its first overseas authorized store in Sydney, Australia.
In December 2014, a 400-square-meter store was opened on Fifth Avenue New York. The company's store in Vancouver, Canada is set to open soon and between three and five new stores are expected to open in Hong Kong in 2015. New stores in the UK and New Zealand are also in the planning stages. "We expect to raise the overseas revenue to 10 billion yuan in three to five years," says Wang Ensheng, spokesman of Shanghai Lao Feng Xiang Co Ltd.
If you go
Add: 432 East Nanjiang Road 南京东路432号 Tel: 021-6322-9483 Open: 9:30 am-9:30 pm
Time-honored brand: The Lao Feng Xiang storefront as it once looked (inset) and today (main). photos provided to shanghai star
big apple: Lao Feng Xiang opened a store on 5th Avenue in New York in December 2014.