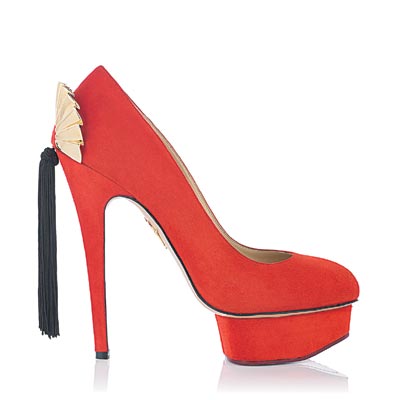 Charlotte Olympia from Lane Crawford. Photo provided to Shanghai Star
An oriental twist
In China, tassels are believed to have originated from ornaments on guqin, the seven-stringed zither. While the tassels, made from fine silk threads, were more for decoration than function, ancient literati considered their movement able to add airiness to the instrument when it was not being played.
A zither without a tassel was once deemed "incomplete", like a husband losing his wife, or in the words of Chinese ideology, the yang being imbalanced by yin. Therefore, tassels for zithers of the finest qualities were often tailor made, in accordance with the size of the instrument, the characters of the players, or even the height of the table where the zither rests.
Later on, tassel's became a unisex ornament on the belt and hat of gentlemen and hairpins of ladies. They were used to decorate fans and almost every household had a tassel somewhere for decoration. It has been such a prevalent item in China, that poems record how people in ancient times would classify other according to their tassel's different colors and textures.
Hair clasps with tassels for ladies were called buyao, which literally translated means "swing by step". Tassels on the crowns of Chinese emperors also have special meaning, as it is believed a person in charge of a country must be capable of overlooking small obstructions in sight and see the bigger picture.