Five centuries of art to go under hammer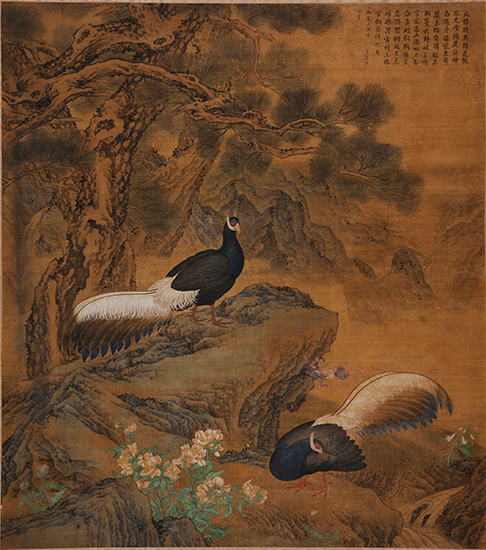 Turkeys, a collaborative work by Giuseppe Castiglione, a Qing imperial court painter from Italy, and his Chinese colleague, Jin Tingbiao, will go under the hammer at the upcoming Poly auction.[Photo provided to China Daily]
An auction plans to sell works by master painters spanning half a millennium, tapping into a string of classical Chinese art exhibitions at the Palace Museum. Lin Qi reports.
The Palace Museum in Beijing has mounted several blockbuster exhibitions of classical Chinese paintings and calligraphy over the past two years. Thanks to successful publicity campaigns, word about these shows went viral on social media, making it the most effective means for drawing visitors.
At the same time, works by classical painters featured in these exhibitions have become highly sought after among collectors, and auction houses have duly responded.
Poly International Auction will sell works by several master painters who lived between the 13th and 18th centuries during its major winter sale in Beijing from Dec 16 to 20.
One highlight is a calligraphic copy of The Heart Sutra, a popular Buddhist scripture written by Zhao Mengfu (1254-1322), a noted calligrapher, painter and scholar who hailed from the imperial family of the Song Dynasty (960-1279).
Zhao is at the center of a special exhibition currently running at the Palace Museum that shows his paintings and calligraphic works, as well as works by other artists of his time and the following generations of artists who were influenced by Zhao.