A stable home for great art
For some it may be hard to believe that this used to be a stud farm. Now, where the best of the equine world once produced their progeny, it is fine art that holds sway.
This is the latest addition to Beijing's art world, a gallery in the capital's northeastern outskirts, on land where 60 horses used to roam and breed. On a long stretch of lawn stands a two-story white building with 199 pine trees.
Inside the building, visitors have access to a display of nearly 80 oil paintings, sculptures and photos of acclaimed modern Chinese and Western artists. They are from a private collection that has been pulled together over more than 20 years, bought at auctions and art fairs all over the world.
The museum housing this collection is just one of many that have sprung up around China over the past seven years, heralding what seems to be a golden era for Chinese private art collections.
Since a test run at the end of September, the Beijing gallery, Song Art, has been hailed as a small, elegant weekend retreat and as one of the most beautiful private museums in China. In the gallery's name those impressive pines outside find their reflection, song being Chinese for pine.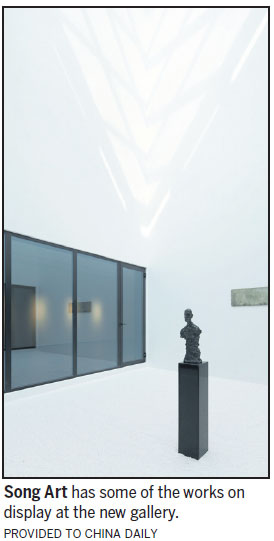 Just as two souls can argue about whether a painting is a masterpiece or just a mess, it seems the gallery's bucolic setting is not everyone's cup of tea. Some complain that it is just too far removed from the city center, while others gripe that the periodic roar of aircraft taking off or landing at the nearby Beijing Capital Airport is a huge distraction.
Entry is not cheap, either, at 180 yuan ($27; 23 euros; £20) for adults - much more expensive than you will pay to get into most public museums in Beijing.
However, the gallery's founder, Wang Zhongjun, says the price is appropriate, given the quality of the works in this "serious palace of art". Premium prices also ensure that the gallery is not too crowded, he says. For him, a museum inundated by people who are only there to take photos or to use the toilet brings itself into disrepute.
Wang, 57, is the chairman of Huayi Brothers Media, one of China's biggest entertainment companies, and over the past decade, the Beijing native has not only done fabulously well financially, but has also amassed great respect in the world of art and auctions.
A regular bidder, he spends millions at auctions to bag Western art, including on works by Pablo Picasso, Vincent van Gogh and Alberto Giacometti that are now on display at Song Art. Last year, he co-established an art auction house in Shanghai.
However, Wang is not just an admirer of art but a doer as well. He is a prolific artist working in oils, and his paintings are shown at exhibitions and fairs, as well as being auctioned. At Song Art, a room is dedicated to his works.
Song Art officially opened on Nov 2, and a week later Wang received at the gallery the Montblanc de la Culture Arts Patronage Award, given out each year by the German luxury goods maker in recognition of those who make art and culture more accessible to a wider public. He was among 17 winners worldwide.
"Art is part of my life," Wang says. "And the decision to open a museum was driven by a sudden impulse. Song is not the largest museum there is, but I dare say that it is one of the most inventive artistically."
Fan Di'an, dean of the Central Academy of Fine Arts in Beijing, says Wang's effort to make his private art collection accessible to the public is commendable, and it is a part of the "social responsibility" that should be promoted as a way to diversify the public's art education.
Private museums and art foundations first appeared in the West in the 1920s, he says, but it has not been until recent years that private museums have been given a boost on the mainland, marking a new phase of what he sees as China's cultural progress.
Song Art's opening has not only given Beijing a new landmark, but has also created a new platform for international exchanges in culture, he says.
Fan, who was the director of the National Art Museum of China in Beijing from 2005 to 2014, says rising art prices everywhere have put many works well beyond the reach of public museums.
"The rise of the entrepreneur-turned-collector has compensated in this field as these people share their artistic assets with the public.
"There is a considerable number of these collections, but, more important, they are gradually building a systematic hierarchy of international art that is absent in the public collections. That is a significant contribution to the broadening of people's vision of global art."
Other new art initiatives of Chinese entrepreneur-collectors include the How Art Museum in Shanghai, opened in September by Zheng Hao, a hotelier who owns another gallery in Wenzhou, Zhejiang province, and Powerlong Museum in Shanghai, which is built on the collection of Xu Jiankang, chairman of the real estate company Powerlong Group, who hails from Fujian province.

Myriam and Guy Ullens, a Belgian couple who are avid art collectors, sponsored the building of the country's first nonprofit, privately funded art museum, the Ullens Center for Contemporary Art, which opened in 2007 in the 798 Art District in Beijing. From its founding, it set an example for Chinese art collectors, whose ranks were being swelled by wealthy entrepreneurs, on how to manage a private cultural institution.
Many private museums were built and opened after 2010, mostly in Beijing and Shanghai, the mainland's two major art centers. Behind this wave stand several deeppocketed collectors who have been successful in business, such as Liu Yiqian and Wang Wei, the couple who founded Long Museum in Shanghai, and Budi Tek, a Chinese Indonesian who opened the Yuz Museum in the city, thus demonstrating his support for contemporary Chinese art.
The art market boom in China after 2010 allowed such wealthy local collectors to scale up and diversify their collections, which have extended from Chinese art and antiques to modern and contemporary Western art.
These collectors have been eager to present their bulging treasure troves to the public in a decent way, and that has been a driving force in the establishment of private museums, says Guan Yu, director of the Art Market Monitor of Atron in Beijing, which is part of the Atron Art Group in Shenzhen.
Owners of the private museums are largely rich and young collectors from well-off families, she says, and they draw great satisfaction from sharing their collections and being able to express their personal tastes in art at the same time.
A report on global private art museums in 2015 jointly compiled by Larry's List, a Hong Kong company that monitors the art market, and Art Market Monitor of Atron, said Beijing, Shanghai and Guangzhou are home to more than 70 percent of China's private museums.
The museums reflect their founders' preferences in collecting art, the report said. They focus on modern and contemporary Chinese art, and oil paintings account for 85 percent of their collections.
Public exposure of works held in a collection is among the top concerns of these museums, so they put on as many exhibitions as possible. China's private museums each put on more than 10 shows a year, so about once a month on average, which is much more than that of many private museums elsewhere, the report said.
Besides rotating the works of their owners that are put on display, these museums have also served as a launchpad for emerging Chinese artists and a platform for international artists.
The second exhibition of an art project called Shanghai Galaxy is now on display at the Yuz Museum in Shanghai, featuring works through which the metropolis's development in art is explored, something that the museum's managers hope will enhance its ties with local residents.
The Red Brick Art Museum in Beijing, owned by real estate developer and collector Yan Shijie, now features two solo exhibitions of the US artists Dan Graham and Andres Serrano.
In fact, private museums have become the main venues of leading international artists' debut shows in China. Featured artists recently have included the Swiss sculptor Alberto Giacometti, the British artist Antony Gormley and the US artist James Turrell.
However, mounting these grand exhibitions has also put huge financial pressures on museums, which rely heavily on funding from founders as well as donations.
A museum as large as Long in Shanghai and the UCCA cost $5 million (4.2 million euros; £3.8 million) a year to run, and making money is something most museums can only dream of, the global private art museum report said.
In addition to revenue from ticket sales, gift shops, cafes and restaurants, some museums looking to cover their costs, or to do even better, put on educational programs for children and adults for which they charge a fee.
Guan of Art Market Monitor of Atron says that about 85 percent of private museums it interviewed said they hope for more help from the government, such as tax breaks and well-thought-out rules on the establishment of art foundations.
Du Jingwei, deputy director of Long Museum, says private museums also need to explore new development patterns so they can make profits.
linqi@chinadaily.com.cn
(China Daily Africa Weekly 11/24/2017 page1)