Converging on canvas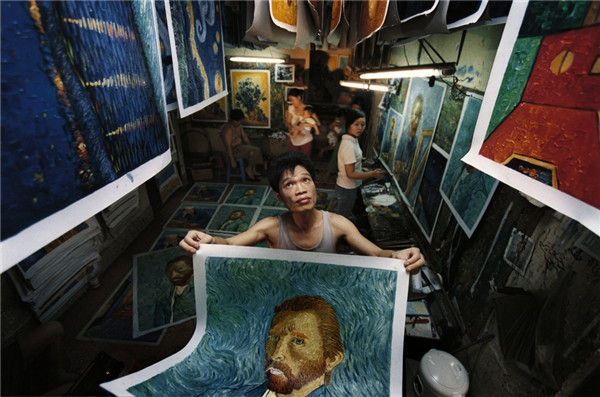 Zhao Xiaoyong has made more than 100,000 copies of Van Gogh's works. [Photo provided to China Daily]
Documentary paints rich picture of Chinese
art
ists reproducing Western masterpieces. Guo Ying and Yuan Quan report.
Photographer and filmmaker Yu Haibo first visited Dafen, a suburb of Shenzhen, South China's Guangdong province, in 2004.
The trip to the area helped Yu form bonds with local painters such as Zhao Xiaoyong, who came from rural Hunan province, and Zhou Yongjiu, also from a peasant family. Zhao, Zhou and many others like them became part of Dafen's reputation as a "village of oil paintings"-churning out reproductions of Western masterpieces such as Vincent van Gogh's portraits and sunflowers that end up on shelves and walls worldwide.
In the past decade, Dafen has provided rich material for Yu to record the phenomenon of "China's Van Goghs". That is also the name of his documentary film, which clinched the best Sino-foreign production in the category at the Beijing International Film Festival in April. It has been screened at other international festivals, including the 2017 Vision Du Reel International Documentary Film Festival in Switzerland, TRT Documentary Awards Turkey and the New Zealand International Film Festival. Yu also won best director in Japan's Skip City International D-Cinema Festival in July.
The documentary offers a perspective on the relationship between China and the globalized world, Yu says.
"These Chinese painters working intensively to produce copies of Western masterpieces still play the role of cheap labor in the chain of global capitalism. But I think their paintings are different from those industrial products generated on an assembly line," he says. "Their creativity and artistic imagination are reflected in their copies of Van Gogh's paintings."
The origins of Dafen's position as the "world's largest oil painting reproduction factory" can be traced to 1989, when Hong Kong painter Huang Jiang started an oil painting business and gradually gathered a group of painters to reproduce classic paintings.
Zhao alone has made more than 100,000 copies of Van Gogh's works, while Zhou and his apprentice have painted more than 300,000 classic replicas.