Painter Li Laoshi's legacy to go on show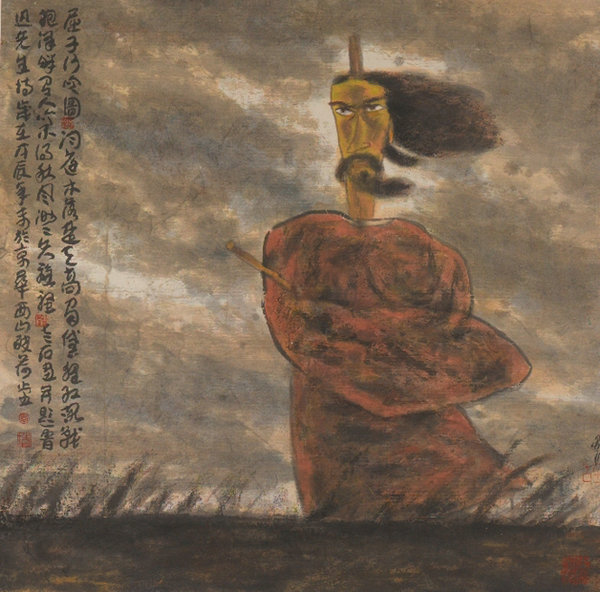 Poet Qu Yuan featured in Li Laoshi's painting. [Photo/namoc.org] 
In most Chinese paintings, lotus, a symbol of purity, is always aesthetically featured as a fine and elegant flower. With large pink or white petals, the flower is synonomous to nobility to most Chinese.
Yet, the lotus flower under the brush of one particular painter are poles apart from how they are in real life -- withered, dark and without vigor.
The painter who created them is Li Laoshi, whose real name is Li Yujie. Li was born in Harbin, NE China's Heilongjiang province in 1957. He was the tenth among his 11 siblings, thus got the name "Laoshi" that means "the 10th".
Li, who graduated from Central Academy of Fine Arts, once worked for People's Fine Arts Publishing House as an editor. Organized by the publishing house, his works will go on show at the National Art Museum of China from August 12 to 20.
Apart from withered lotus, Zhong Kui, a famous exorcist in Chinese folk stories, is another character that was often featured in the artist's paintings.
In traditional Chinese culture, Zhong Kui is an icon of righteousness and justice. His picture is often hung up by Chinese people during the Dragon Boat Festival to scare away evil spirits and demons.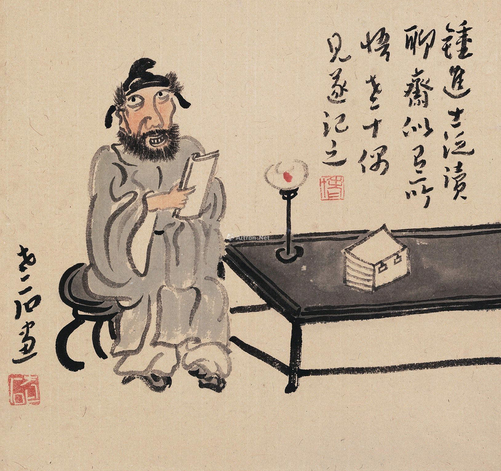 Zhong Kui Reads a Book, by Li Laoshi. [Photo/artron.net]
However, under Li's brush, Zhong Kui is more like a common person. In one painting, Zhong Kui loses temper when looking at his own ugly face in a mirror. In another one, he gets drunk and is supported by demons he should have beaten.
The painter's unique way to portray Zhong Kui shows his understanding of the evilness in human nature.
Unlike the artists in the 1970s who were busy with creating an aesthetically ideal world, Li focused on reality, especially the dark side.
His less fortunate childhood, and memories on hunger and death of relatives led Li Buddhism, which also largely influenced his creation.
Li's pictures display a sharp observation of human nature, yet these works did not let people feel desperate. On the contrary, the characters and animals in his paintings often look absurdly amusing.
Like Van Gogh, Li also created many self-portraits. The artist always pictured himself as a floppy man with messy hair in shabby clothes.
Li, who committed suicide in 1996, still has a large group of followers who consider him a genius.