Philippe Parreno's debut show in China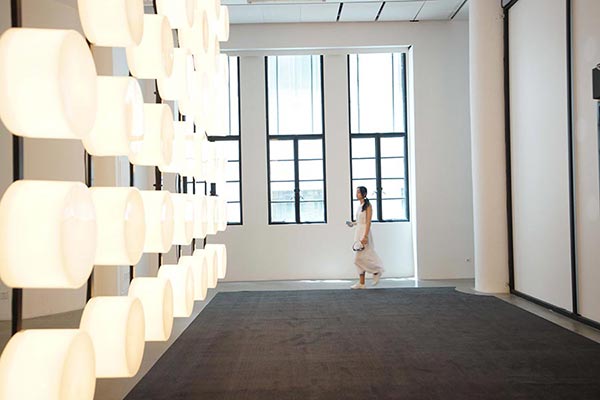 Exhibition Synchronicity is running through Sept 17 at Rockbund Art Museum in Shanghai. [Photo provided to China Daily]
One of the most important artists of his generation in France, Philippe Parreno is holding his debut solo show in China.
His exhibition named Synchronicity is running through Sept 17 at Rockbund Art Museum in downtown Shanghai.
"Parreno choreographed the Rockbund Art Museum," says the museum director Larys Frogier, who's also the curator of the exhibition. "The artist invites visitors to engage with contradictory notions of the physical, emotional and conceptual."
Parreno became recognized in the 1990s, for his unique exhibition method. He believes audiences should experience an artist's exhibition as a coherent object instead of separate pieces of artwork.
"He blurs the distinction between reality and fiction to create an all-encompassing world of endless possibilities," the curator says.
The exhibition starts from a gateway on the ground floor of the Art Deco building of the museum, where Parreno designed a secret door hidden behind a bookshelf on the wall. "It is the entrance to the exhibition, like an invitation card," says the artist.
From this, Parreno takes visitors through a constantly evolving space of the exhibition, through manipulation of the light, shadows and duration.
Windows of the exhibition halls are covered with blinds, like eyelids of the building, opening and closing in different locations, to variable time sequences. As a result, each space shifts from darkness to twilight, and then to full light.
While some of the blinds are operated with electronic technology, others are operated by dalang performers. Parreno has borrowed the idea of "dalang" from traditional Indonesian puppetry. It originally refers to the puppeteers, who control the white screen and lighting to create shadow puppet performance.
Parreno also installed a heliostat on the glass rooftop, which directs the sunlight into the fourth floor space, creating a carefully choreographed dance of the natural light in sync with the movement of the blinds.
Rockbund Art Museum provides free tour guides for the exhibition on each Saturday and Sunday afternoon. A series of lectures will also take place during the show. One can visit the museum website for the schedule.