Painter gives ancient thangka art a contemporary look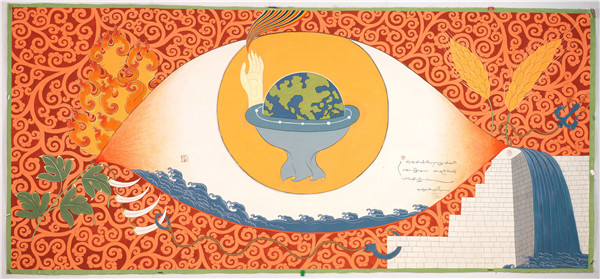 Orgyan Chopel, a Living Buddha, gives the sacred art of thangka a modern look by using symbols. [Photo provided to China Daily]
For thousands of years, thangka paintings-a traditional Tibetan Buddhist art-have been placed at temples.
Now, painter Orgyan Chopel is giving this sacred art a contemporary look.
The Tibetan artist's solo show, which begins at Beijing's Yilian Art Center on Saturday, features 45 thangka paintings done since 2011.
Unlike traditional thangka works, which feature Buddha figures, Chopel's paintings have symbols derived from Buddhism, such as a cloud, a temple and a lotus base.
"I try to do what a traditional thangka painting does but with symbols that are easier to understand and accept," says the 42-year-old artist, who is also a Living Buddha at the Ganden Monastery in Lhasa, capital of the Tibet autonomous region.
In his paintings, Chopel includes poems, which express the Buddhist thought behind them.
For instance, he wrote that flowers bloom in the heart because the heart has its seed, while they bloom in one's eyes because in the eyes is the water they need.
Accompanying the poem is an abstract thangka painting, with symbols like the Buddha's eye and heart lying on the clouds.
Jeff Watt, a scholar of Chinese Tibetan art, says that Chopel has turned traditional thangka paintings into contemporary art by using symbols,which allows the artist to communicate with a broader audience.