Masters of rhyme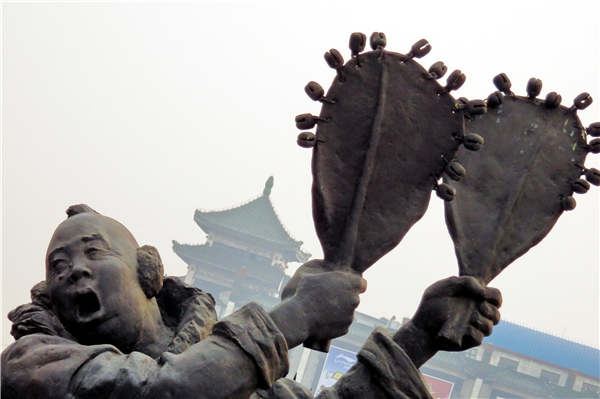 A sculpture of a shulaibao performer on display at Beijing's Tianqiao area. SHEN JINGWEI/FOR CHINA DAILY
The rare Chinese folk art shulaibao flourishes, fades and returns again, Wen Zongduo reports.
Former US president Richard Nixon was surprised when Chinese folk artist Meng Xin performed rhythmic storytelling with a pair of ox scapulas when the former US leader visited Beijing in 1993.
The president said Americans had long had beef, but ancient Chinese were smart enough to turn ox bones into performance instruments.
That art form, known as ox-bone shulaibao, dates to about 700 years ago. But its popularity fell after famed artist Cao Dekui stopped performing in the 1930s.
Cao was famous for rhythmic storytelling with the help of ox scapulas but was disheartened to see the art form being misused by some people. So he asked his disciple, Gao Fengshan, to pursue it with bamboo clappers instead.
Gao was orphaned at age 6 and struggled on the streets before beginning to learn shulaibao in the Beijing neighborhood of Tianqiao in the late 1920s.
After Cao's death in 1939, Gao explored the art further, changing the performance position to standing instead of kneeling on one knee. He also became head of the Beijing Ballad Singers' Troupe in the 1950s.
"In any performance, Gao sought to excel in breathing, tone, rhythm, clapping ... everything," says Meng, who followed Gao back then.
But shulaibao, like many other art forms, was suspended during the "cultural revolution" (1966-76).
Meng had to leave Beijing not long after he declared his lifelong devotion to the art.