Rare facsimile of calligrapher's work on display in Nanjing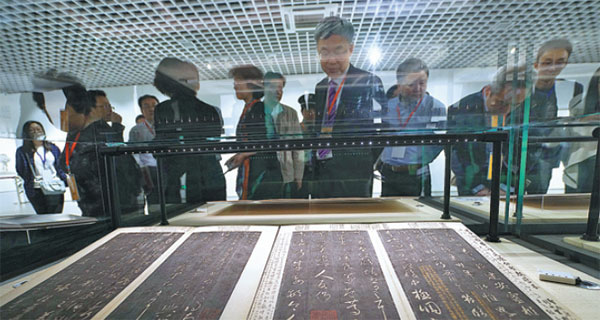 The stone rubbings of the Song Dynasty from Notes of the Daguan Period, by 4th-century calligrapher Wang Xizhi, are being shown at Nanjing University. Sun Can / Xinhua
None of 4th-century calligrapher Wang Xizhi's works survive today. But there are facsimiles of masterpieces by him. One of them, which is with Nanjing University in eastern China's Jiangsu province, is part of an ongoing exhibition.
It is among the 100 exhibits being showcased at an exhibition on stone rubbings at an art museum in the university.
The treasured work is a 22-page collection of stone rubbings of 973 characters, and is from Notes of the Daguan Period.
It was complied in the Northern Song Dynasty (960-1027) under an edict, and represent China's technique of using stone craft to duplicate calligraphy.
"We rarely see paper works prior to Song Dynasty today due to the fragility of the paper," says Cheng Zhangcan, a Chinese language professor at the university.
"So, the piece is extremely precious."
Cheng says that the pages are the only remnants in the Chinese mainland of the original Song work rubbed from the Notes of the Daguan Period.
He also says that stone rubbing facsimiles played an important role in passing on Chinese fine art masterpieces over the generations.
"Many original pieces of bronze ware, paintings and calligraphy do not exist," he says. "But stone rubbings show what they were like. Nearly half of the ancient calligraphy masterpieces were passed on this way."