Poetic beauty: 10 most significant flowers in China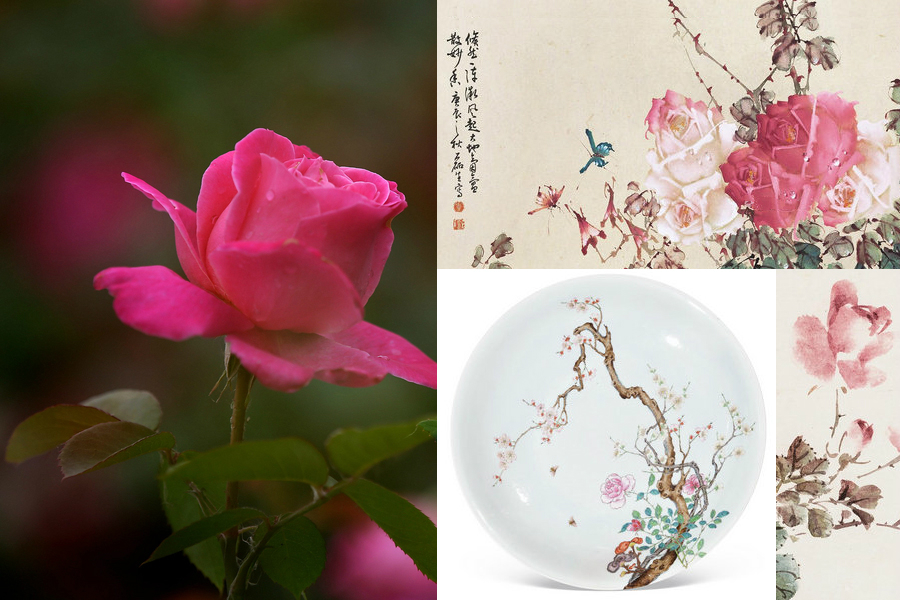 Chinese rose, ink paintings of the flower and a plate painted with Chinese roses from the Qing Dynasty. [Photo/VCG; artron.net]
Chinese rose
Bearing a strong resemblance to other roses, yet with fewer thorns and larger petals, the plant originates from China, hence the name "Chinese rose".
"Bloom or fade, the flower never cares about arrival of spring; Best peonies only appear in late spring and early summer, yet Chinese roses enjoy the four seasons with unceasing beauty," poet Su Shi from the Song Dynasties ( 960-1279) described the flower in his poem.
Chinese people started to grow the rose about 2,000 years ago. In the Han Dynasty (206 BC- AD 220), Chinese roses were widely grown in royal gardens. And in the Tang Dynasty, the flowers found their way into most regions along the Yangtze River.
Apart from being extracted to make perfume, the roots, leaves and flowers of Chinese roses are used in traditional Chinese medicine to cure menstruation disorders.
Click here to listen to Enya Brennan's: Chinese Roses