Serial pictures give old art form a new lease of life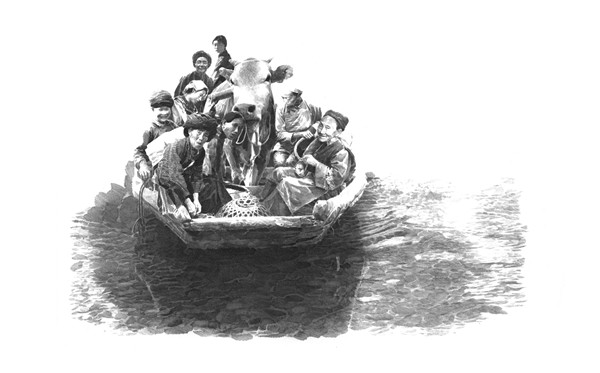 Li Chen's representative work, The Border Town, is adapted from a novel by Shen Congwen. [Photo provided to China Daily]
Like many of his peers born in the 1960s, Li Chen was a fan of Chinese picture books in his childhood.
"I think all Chinese people of our generation were nourished by picture books," says Li, who clearly remembers exchanging picture books with his friends and borrowing books from stands for a few cents when he was a child.
However, unlike most adults who eventually abandoned picture books, Li chose to become an illustrator, telling Chinese stories with a pencil and paper.
His debut serial pictures work, Premier Zhou Enlai at Meiyuan New Village, was shown at an exhibition of arts in his hometown city, Yingkou, Liaoning province, when he was still in high school.
In 1979, when he was 16, Li joined the army and mainly served as a projectionist. After leaving the army, he went to study in the Lu Xun Academy of Fine Arts in Shenyang, capital of Liaoning province, and graduated in 1983. Then he was assigned to work in several institutions, including the National Police University of China and Liaoning Administrators College of Police and Justice.
"I kept painting through those years," says Li.
Now a professor at the Lu Xun Academy of Fine Arts and deputy director of Chinese Serial-Picture Art Council, Li is an advocate of serial pictures on an easel.
"Picture books are just one form of serial pictures. Serial pictures can also be displayed at the easel and in exhibitions. Compared with picture books, easel serial pictures are richer in representation and more delicate," Li explains at the 4th Easel Serial Pictures Art Exhibition, which was launched in Dalian in November and toured Beijing in December.
He was the curator of the exhibition.