Shakespeare and his comedies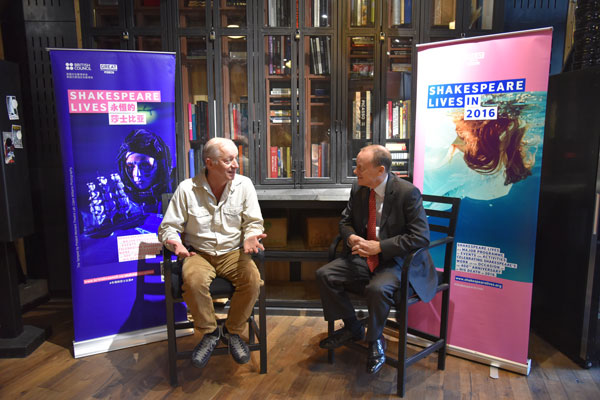 Paul Stebbings and Martyn Roper exchange ideas. [Photo by Zhang Xingjian/chinadaily.com.cn]
"Most people think that tragedies are superior to comedies. And I need to dispel that view by giving comedy a status because it is a complex humanist art," said Paul Stebbings, founder of TNT Theatre Britain.
To make the general public know more about Shakespeare, his comedies in particular, Paul delivered an interesting speech at the 9 Theater in Beijing on Nov. 23, attracting hundreds of visitors.
Paul began the speech by raising the question "What makes humor" and then combined the humorous elements together with Shakespeare's comedies.
According to him, TNT Theatre Britain has been touring in China for 11 years. It is currently touring the country with The Taming of the Shrew and will return to China early next year with Twelfth Night.
"Twelfth Night represents the classic works of Shakespeare's comedies because of language, plot and role characters. We are about to put the drama on the stage next year," Paul said.
When asked about whether they will add some Chinese elements in their performance, Paul said that the humorous elements in Shakespeare's comedies are universal and they can make people laugh and enjoy the show despite the cultural differences. And they would keep the drama in its original form.
Paul's speech was only a small part of the Shakespeare Lives campaign. To mark the 400 anniversary of William Shakespeare, the British Embassy Beijing has announced a series of special events in nine cities across China over the next month. Working together with some of the UK's top industry experts, these events will bring the creativity inherent in Shakespeare to local creative communities from Xi'an to Wuhan, showcasing the universal nature and relevance of Shakespeare's themes today.
Martyn Roper, Deputy Head of Mission at the British Embassy Beijing, said: "It is fantastic to see the way that so many diverse audiences across China have embraced the works of Shakespeare this year. This really shows us how the richness of the UK's cultural heritage can be shared and enjoyed by all today. I hope that through these special events we can inspire even further greater cultural exchange between the UK and China. "
This year saw the launch of the Shakespeare Lives campaign, a celebration of the 400th anniversary of William Shakespeare. A major program of events and activities has been organized across China throughout the year to spark cultural, educational and economic exchange, through the shared language of Shakespeare.
The campaign has been an invitation to the world to join in the celebrations and experience the works of Shakespeare on stage, through film, exhibitions and in schools.