Botanical garden forms inspiration for art display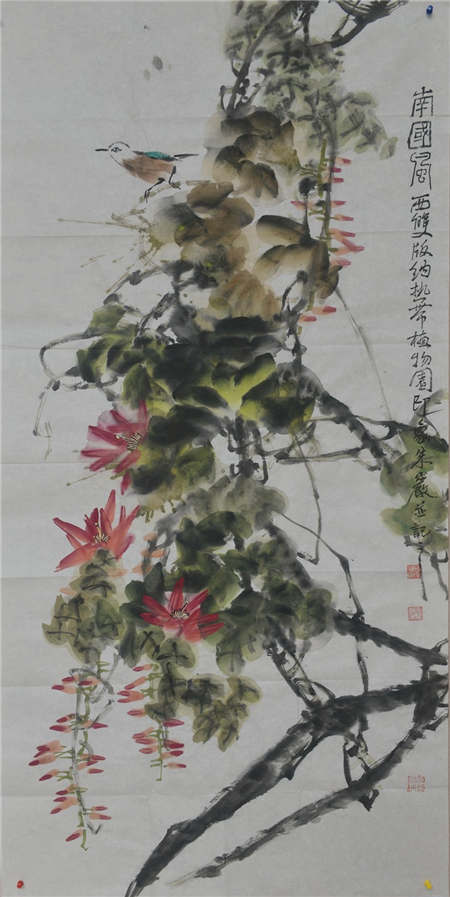 Traditional Chinese flower-and-bird painting by Zhu Yan is among the pieces on show at the exhibition at Wanglian Hotel inside the Xishuangbanna Tropical Botanical Garden. Photos provided to China Daily
The distinctive tropical landscapes of Xishuangbanna, in southwestern Yunnan province, has been attracting established painters like Zhu Danian and Yao Zhonghua since the late 1950s. Many of them spend weeks sketching and painting at the Xishuangbanna Tropical Botanical Garden, where a great variety of plants and birds inspire artists from across the country.
Established by the famed botanist Cai Xitao in 1959, the garden, now managed by the Chinese Academy of Sciences, is not only a scientific base for tropical biologists, but is also "a site of artistic pilgrimage" especially for painters who specialize in the traditional Chinese art of painting flowers and birds.
When Art Meets Science, an ongoing exhibition being held at the garden's Wanglian Hotel, showcases 128 ink paintings and 10 woodcuts, which provide novel perspectives to visitors wanting to learn about nature and scientists trying to understand art.
The garden covers an area of 11.25 square kilometers, and includes a tropical rain forest, which is home to more than 12,000 species of plants. It is also a shelter for birds and has become an attraction for bird watchers, particularly during the bird migration season.
The paintings feature some of the garden's most eye-catching attractions, such as flowers of the hairyfruit musella, orchids, torch lilies and peacocks.
Shi Lan, an art professor from Anhui province, whose paintings are displayed, has been a frequent visitor to the garden for the past decade.
"There is no way that I lower my head when walking through the forest, because I just cannot keep my eyes away from the flowers.
"The moment I see the red blossoms high up in the trees I'm carried away by the rhododendrons in the lower bushes and the rows of travelers' palms. Then, I spot fallen red jumble-beads scattered in the grass. I don't know what I should set my eyes on."