A bounty of beautiful brocades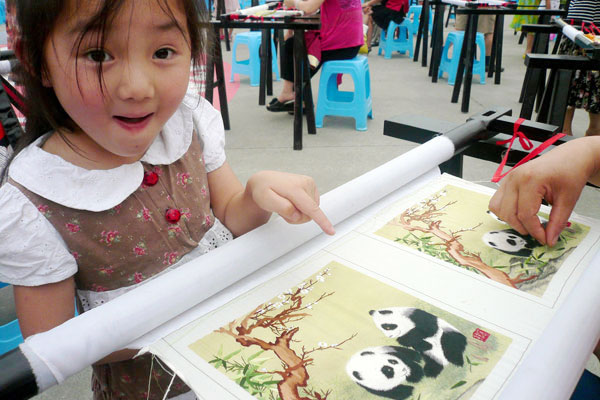 A child admires a Shu embroidery work at the Anjing International Embroidery Festival in Sichuan province on Sunday. WANG JUN / FOR CHINA DAILY
Chengdu event shows Chinese embroidery to the world
Liu Sirui, a 3-year-old girl from Chengdu, Sichuan province, was so fascinated by an embroidered giant panda on Sunday that she did not want to leave the third Anjing International Embroidery Festival.
The event, held in Anjing town, Pixian county, is part of the fourth International Festival of Intangible Cultural Heritage, a biennial activity in Chengdu that opened on Saturday and will continue through June 23.
"My granddaughter loves animals and the giant panda in particular. But the trip to the town is more meaningful to me, for I happened to witness the granting of the geographical indication trademark to the Shu Embroidery there," said Wan Zhi, 58, who learned to embroider in the town 40 years ago.
Approved by the State Administration of Quality Supervision, Inspection and Quarantine, a geographical indication trademark is a distinctive sign identifying a product as originating in a particular region where its quality, reputation or other characteristics are linked to its geographical origin.
"The trademark has been granted in recognition of embroidery in Sichuan," said Zhao Xiaomei, an expert from the Chengdu Shu Brocade and Embroidery Museum.
The history of sericulture in China dates back more than 4,000 years, when the Sichuan province was called Shu.
Shu Embroidery is one of the four schools of embroidery in China, together with Su Embroidery in Jiangsu province, Xiang Embroidery in Hunan province and Yue Embroidery in Guangdong province.
According to a study of ceremonial robes depicted on a bronze statue unearthed from the Sanxingdui Ruins in Guanghan city, about 40 km from Chengdu, experts concluded that Shu Embroidery was mature in the Shang Dynasty (about 16th century-11th century BC).
Anjing has been renowned as the hometown of the Shu Embroidery since ancient times.
"Many women villagers know how to weave. The traditional patterns are the giant panda, carp and hibiscus, which is the city flower of Chengdu," said Jiang Hai, an official in the town.
"As their embroidered patterns could be used only for decoration, business was sluggish about 10 years ago. But coupled with nationwide awareness of preserving intangible cultural heritage, the government has taken action to help," he said.
According to Wang Wenzhang, director of China Intangible Cultural Heritage Protection Center, the movement was largely triggered by the acknowledgement of the Kunqu Opera by the United Nations Educational, Scientific and Cultural Organization as a "Masterpiece of the Oral and Intangible Heritage of Humanity" in 2001.
"During the last decade, especially since the implementation of the UNESCO's Convention for the Safeguarding of the Intangible Cultural Heritage 10 years ago, China has witnessed great progress in intangible cultural heritage preservation," Wang said.
To enliven the Shu Embroidery, which was included on the list of China's intangible cultural heritage in 2006, Sichuan has set up a base to train people how to embroider in Anjing.
"The base teaches people to embroider not only traditional patterns but also marketable products such as high heels and cheongsams, which are popular with wealthy people who like fashion. A cheongsam can be sold for several thousand yuan or tens of thousands of yuan," Jiang said.
The efforts have paid off.
"In Anjing alone, the sales of embroidery amounted to 55 million yuan ($9 million) in 2011 and surpassed 100 million yuan last year," Jiang said.