Hiromi shines in Shanghai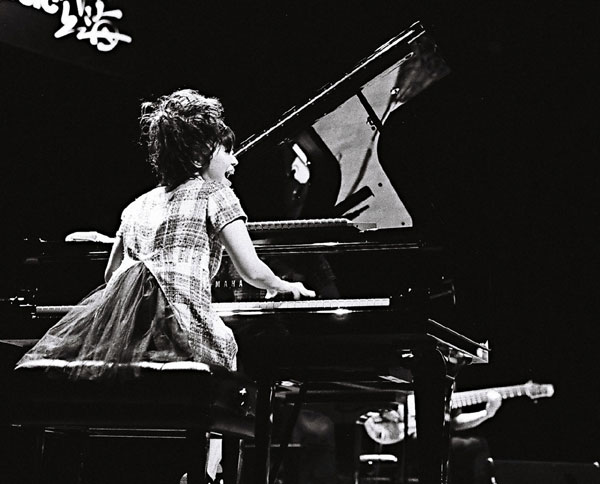 Virtuoso Japanese pianist Hiromi Uehara performed in China's commercial hub for the first time in eight years on Wednesday night, with her trio delivering an incendiary 120-minute set to a capacity audience at the Shanghai Center Theater.
Best known as a jazz pianist and composer, Hiromi - performing under her given name - favors musical forays into more nebulous territory, blending elements of jazz, fusion, classical, blues and rock on her eight recorded albums. Onstage, she acts the daring performer with charm and humility.
Hiromi exorcised that colorful eclecticism with gusto Wednesday, moving seamlessly from muscular fusion to hard-swinging jazz and classically-inflected solo piano. She was alternatively manic, playful, reflective and ferocious, improvising liberally over the rhythmic anchor of electric bassist Anthony Jackson and drummer Steve Smith.
The hardest percussive moments of Wednesday's performance - Hiromi pounding simultaneously on her Yamaha grand piano and an electronic keyboard while Smith struck his drum kit with savage precision - whipped the audience into a frenzy befitting the finale of a rousing rock concert.
Fortunately, any jazz purists in attendance held their peace.
Meanwhile, the Chinese audience, which included a number of local musicians, was receptive to Hiromi's experimentation.
"I think she's a genius," said Jasmine Chen, a Shanghai-based songwriter and jazz vocalist, who heard Hiromi's music for the first time Wednesday. "She has everything - passion for the piano, great rhythmic sense and creativity."
"Music purifies emotion - it turns the negative positive - and when I play, I put it all out there," Hiromi told China Daily during an interview earlier Wednesday.
She added: "I find it much harder to communicate with language. With music, I can develop an instant connection with my audience."
Still, the classically-trained Berklee College of Music graduate has a way with words - and fashion. Onstage, the earnest sincerity from the afternoon's interview gives way to a cultivated cool and hint of swagger. Hair teased up, clad in a funky checkered dress and tennis shoes, Hiromi quipped to the trigger-happy photographers in attendance, "I know I have a great dress and great hair, but still, I just want this five minutes of silence, please, for this solo piano piece so that we really feel connected."
As the Chinese audience roared in approval, Hiromi grinned, hesitated for a moment, then asked, "You...understand English...right?"
The shutterbugs silenced, Hiromi launched into a sterling rendition of "Place To Be," the lilting title track from her 2009 solo piano album. Flingers lithely gliding across the keys, gently picking out the notes, she reveled in the exploration, turning in her most introspective performance of the evening.
Inherent risk and intimacy with the audience characterize solo piano playing, she told China Daily: "Playing solo is risky because nobody covers you on stage and anything can happen," she said. "I feel I am the captain of a boat and the audience is on board. I ensure them adventure." The adventure continues tonight at Beijing's One Club and Saturday at the Xinghai Concert Hall in Guangzhou.