Book Boom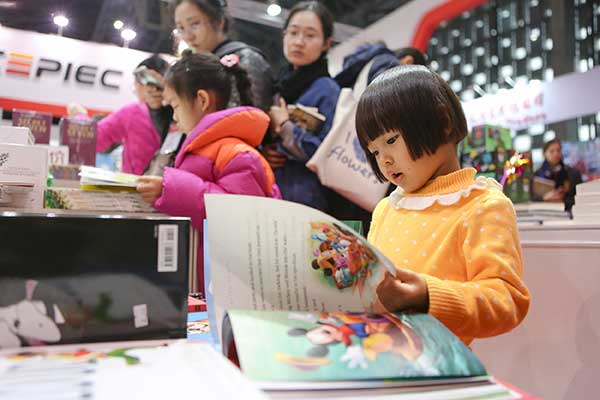 The 5th China Shanghai International Children's Book Fair, which took place at the Shanghai Expo Exhibition Center from Nov 17-20, draws children and their parents for such events as book signings, meeting writers and early-education forums.[Photo provided to China Daily]
Growing international interest in original content from China was apparent at a recent children's book fair in Shanghai. Zhang Kun reports.
The 5th China Shanghai International Children's Book Fair attested to growing interest in Chinese publications from local readers and international publishers alike.
The fair took place at the Shanghai Expo Exhibition Center from Nov 17-20, attracting more than 360 publishers and creative institutes. More than 1,000 authors, illustrators and industry professionals from 50 countries and regions participated in book readings, forums and other events.
The fair was established in 2013. It's the only one in the Asia-Pacific region that focuses solely on books for readers younger than 16 years old. This year, it occupied some 25,000 square meters of floor space, 12 percent more than the previous year, as the number of visitors increased.
Organizers didn't release specific numbers about copyright deals. But publishers were quick to note growing international interest in content from China.
Shanghai Century Publishing Group, the largest exhibitor, highlighted a series of new books featuring traditional Chinese folklore and classical literature.