Fans can look forward to Liu Jian's latest animation film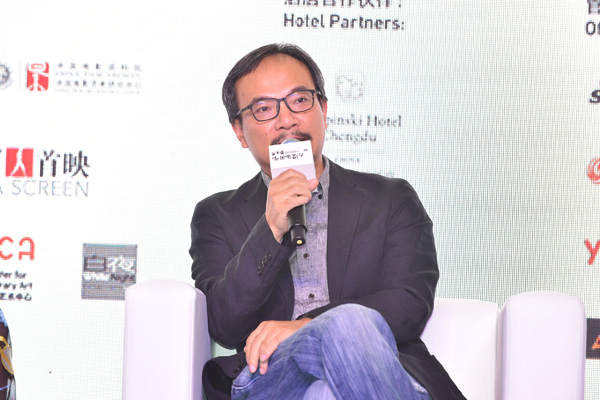 Film director Liu Jian [Photo provided to China Daily]
Also, most of the dialog is in the Nanjing dialect, and the dubbing sounds amateurish. Sometimes, it is even like reading a book aloud.
"I know some will find this a little bit strange, but I deliberately avoided professional voice actors," says Liu, adding that such voices can feel like "plastic".
"I wanted normal conditions," he further explains. "Thanks to my artist friends from Nanjing who contributed their voices. I just picked the roles in the film for each to speak in a natural way."
Liu is also a maverick when it comes to animation.
Before releasing his first film in 2010, he had been a contemporary artist for long.
He is a painter, a photographer, and once played in a band.
Though Liu switched focus to cinema, he still does a spot of painting. After all, he is also an associate professor at the China Academy of Art based in Hangzhou, Zhejiang province.
"The crossover is not that dramatic as you may think," he says. "For me, film is just another form of artistic expression.
"The reason I decided to shoot a film in the first place was because what I had was not enough to express my ideas."
As a comprehensive fine art form, animated film can maximize the expressional method, he adds.
Liu says the role of a painter in the film is partially based on his own life.
In the film, he kept adding new elements throughout the three years of its making. It even includes background sound from a news broadcast on Donald Trump winning the US presidential election in November 2016, which was only three months before the Berlin premiere.
Liu drew all the animation in Have A Nice Day, but he considers storytelling more important than images in animated films. He rules out the possibility of using real people in his films in the near future.
"In animation films I can control everything. I don't need to adjust to actors' moods," he says. "So, I will still stick to animation, but I'll keep bringing something new in each production."
For the music, the song Our 80s was sung by the 1980s' Chinese disco music diva Zhang Qiang, and it was used as the ending theme song in the film. This may have left the audience confused because it seems irrelevant in the context of the film.
Liu, however, says the song is a preview of his next film. "It will possibly be a story about the 1980s," he says.