Awards for young writers boost literary originality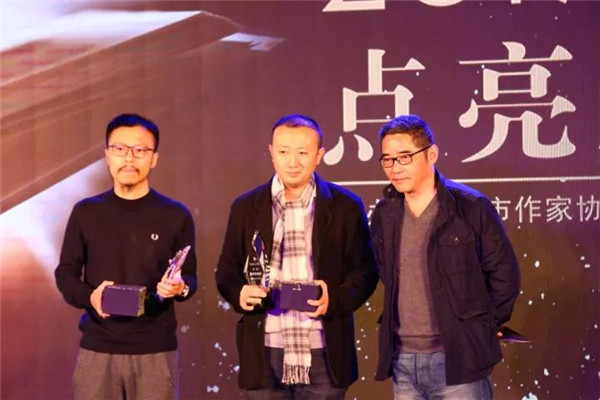 Writer Su Tong (right) presented awards for Best Novella to Shuang Xuetao (left) and Na Duo (center), Oct 29, 2017. [Photo provided to chinadaily.com.cn]
To recognize and encourage talented young authors, the first Firestone Literary Awards ceremony kicked off Sunday in Beijing.
It presented four prizes to eight writers for the Best Short Story, Best Novella and the Best Novel. Two writers received awards for the best post-90s male and female writers.
Hosted by the Tianjin Writers Association, the event centers on new works and promotes originality in Chinese literary world.
"The Firestone Literary Award aims at injecting new energy into Chinese literature and discovering more quality works that are less known to the public," Li Jingze, vice president of the China Writers Association, said.
"We named the award 'Firestone', hoping that more and more inspiring writers will come forth with fresh works and illuminate the future of Chinese literature," said Yue Yang, director of culture media company Flaming Universe, one of the award's co-sponsors.
The award also calls for boosting awareness of plagiarism. The committee presented the White Lotus Award to one of the three works nominated for suspected plagiarism based on an online public vote.