Chinese opera 'Lan Huahua' to make debut in Beijing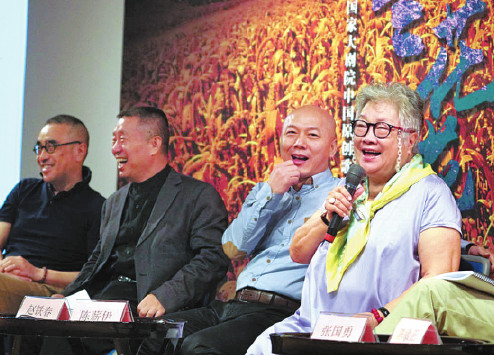 Chen Xinyi (right), director of opera Lan Huahua, says it's challenging and bold to create an opera that is totally inspired by a Chinese folk song. [Photo provided to China Daily]
Popular folk song forms the soul of a Chinese opera set to debut on Oct 1. Chen Nan reports.
Chen Xinyi can still recall the first song she learned after moving from Nanjing, Jiangsu province, to Xi'an, Shaanxi province, at the age of 13.
It was Lan Huahua, a popular folk song of Northwest China.
"I was impressed by the melody and was touched by the story told in the song," says the 79-year-old theater director, who lived in Shaanxi for nearly three decades before moving to Beijing.
She graduated from the Central Academy of Drama in 1981.
The song was written by the late Zhou Jialuo and performed by Chinese folk singers, including Guo Lanying and Wang Kun. It revolves around a rebellious young woman called Lan Huahua who lived in feudal times and longed for freedom and true love but was forced to die under pressure from the feudal system.
Now, Chen, whose work ranges from Western operas and plays, including Giacomo Puccini's Turandot and William Shakespeare's The Merchant of Venice, to traditional Chinese operas, is going to adapt the folk song into an original Chinese opera.
With the same title, the opera, Lan Huahua, will make its debut at the National Center for the Performing Arts in Beijing on Oct 1.
"Most operas are based on historic events and classic literature works. It's really a challenge to create an opera that is totally inspired by a Chinese folk song," says Chen. "The idea is bold."
Zhao Tiechun, vice-president of the NCPA, says it took the theater more than six years to produce the opera.