Far beyond printed words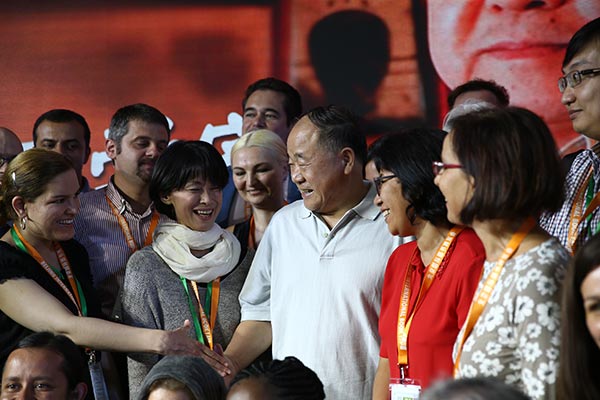 Chinese Nobel laureate Mo Yan meets some sinologists at the book fair. [Photo by Zou Hong/China Daily]
Publishers at the 24th Beijing International Book Fair say cooperation and integration are the two words which describe the event that wrapped up on Aug 27.
At the event, 5,262 deals were struck, an increase of 4.9 percent compared with the figures in 2016.
The deals covered 3,244 Chinese titles that were sold or will be co-published overseas, says the fair's organizer.
The ratio of titles sold compared with titles bought was 1.6:1, meaning that China is now selling rights to more titles than it is buying.
The organizer also says that the rights relate to books on China's development, children's books, literature, education, economics and philosophy.
Besides Western markets, the countries involved in the Belt and Road Initiative are also showing a greater interest in Chinese titles.
More than 300,000 visitors attended the fair.
Fan Jun from the Chinese Academy of Press and Publication, says more than 500,000 books were published in China in 2016. And the rights to 9,811 Chinese titles were sold overseas that year.
"Chinese publishers have more influence globally now," says Fan.
At the fair, 500 books in multiple languages were exhibited at a special booth. The books included those by President Xi Jinping and some from the China Book International program besides titles on advanced technology.