Amazon launches English version of 'Happy Dreams'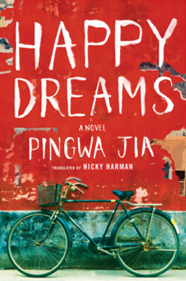 The newly released English version of Jia Pingwa's book Happy Dreams. [Photo/People.cn]
The 24th Beijing International Book Fair opened at the New China International Exhibition Center in Beijing on Aug 23. On the same day, as a member of the Chinese Culture Translation and Studies Support, Amazon launched the English translation of the Chinese book Happy Dreams. The simultaneous release of the paper books and e-books enables Amazon readers in 183 countries to get this book as soon as possible.
Happy Dreams is the English version of Jia Pingwa's book Gaoxing. It's the result of three years of work and six drafts. Published in 2007, the book describes the bitter experience of a migrant worker named Liu Gaoxing who comes from northern Shaanxi province and goes to live in a city.
Amazon Crossing was responsible for translating the book into English and holding its global launch. It is the first time Amazon has held the global launch for the English version of a Chinese literary work.
In addition, Happy Dreams is also included in the Kindle's unique "First" project, which enables Prime membership and subscribers of Amazon's published information to have prior access to Happy Dreams. The book is the only one Chinese literary work included in Kindle's "First" project this year.