BBC documentary reveals secrets of Forbidden City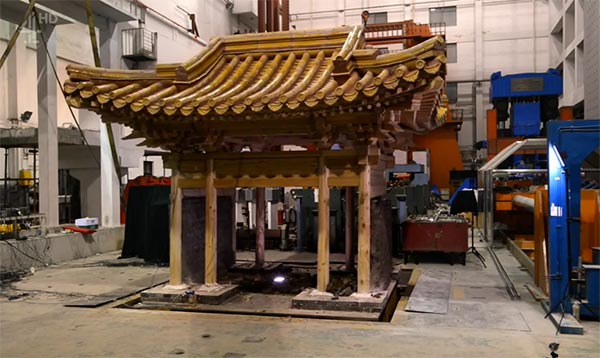 A scale model and a shake table used to test the strength of dougong. [Photo/Screen capture of Secrets of China's Forbidden City] 
A resident seismologist of the Forbidden City, surnamed Zhou, created a shake table calibrated to the size and weight of a 1:5 scale model of a typical building in the palace to replicate the energy of quakes in increasing magnitude and simulate how much quake forces the architectures can take.
Under a simulated earthquake of magnitude 5, walls around the model pavilion began to crumble but the pavilion stood upright in its complete form. At magnitude 9.5, an energy equivalent to 200 tons of the explosive TNT, the supported columns started to move but did not crack. At 10.1, the highest level tested, the pavilion still stood high.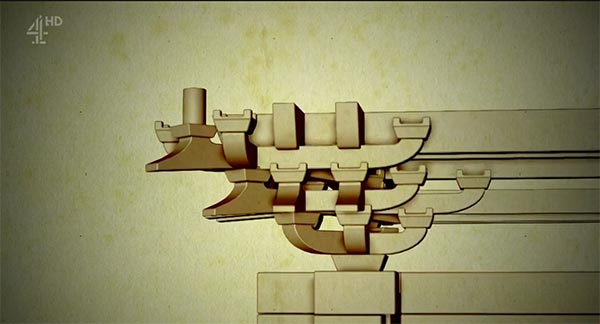 A simulated model of dougong. [Photo/Screen capture of Secrets of China's Forbidden City] 
The secret can be summarized in one word -- flexibility.
The dougong acts like a shock absorber in a car and there's both friction and rotation that absorbs the energy from the earthquake.
Something as simple as a craftily cut piece of wood, that was designed more than 2,000 years ago, reached their zenith in the Forbidden City and protected the impregnable fortress from natural disasters for centuries.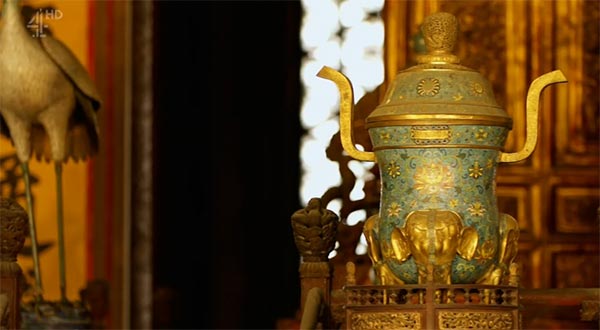 A scene from Secrets of China's Forbidden City. [Photo/Screen capture of Secrets of China's Forbidden City]
The vision of one man may have wanted to steer China into a whole new direction, but it was the genius of the Chinese people that made it possible.
Secrets of China's Forbidden City is a co-production between China Intercontinental Communication Center and BBC.
Related:
Palace Museum brings Forbidden City to life for children