Jingzhou Museum and King Chu's Mausoleum showcase Chu culture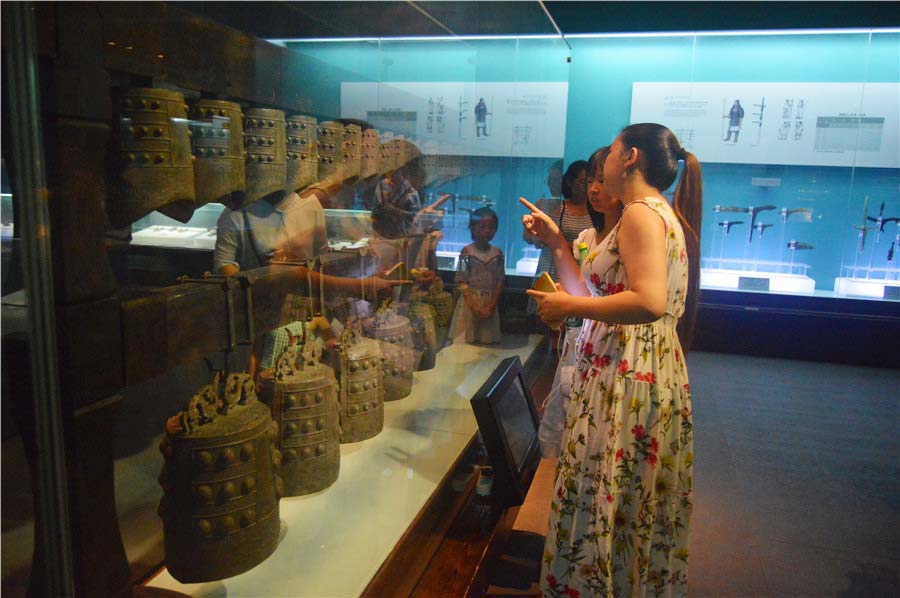 Online journalists view a set of bronze chime bells from the Warring States period at the Jingzhou Museum. [Photo by Liu Xuanyi/chinadaily.com.cn]
A group of online journalists from big media event "Exploring the ancient Chu culture" traced the ancient Chu civilization in Jingzhou, Central China's Hubei province, on Aug 10.
Jingzhou was the cradle of ancient Chu culture; dating back to 689 BC, when Emperor Wen of Chu State chose Ying as the capital, which nowadays is in the Jingzhou area.
From then, it served as the capital for 20 kings of Chu State in 411 years and, therefore, became the center of the glorious Chu culture.
The Chu culture is one of the most important parts of Chinese culture. In the Spring and Autumn Period (770-475 BC), as well as the Warring States period (475-221 BC), Chu was the largest state in area within the territory of Hubei province.
Chu once tried to conquer the Central Plains, comprising the middle and lower reaches of the Yellow River, and became one of the five powers in the Spring and Autumn Period, as well as one of the seven powerful states in the Warring States Period.
Chu had once reached a very high level in the fields of bronze smelting, colorful weaving on silk, embroidery and lacquer ware manufacturing.