Jingzhou Museum and King Chu's Mausoleum showcase Chu culture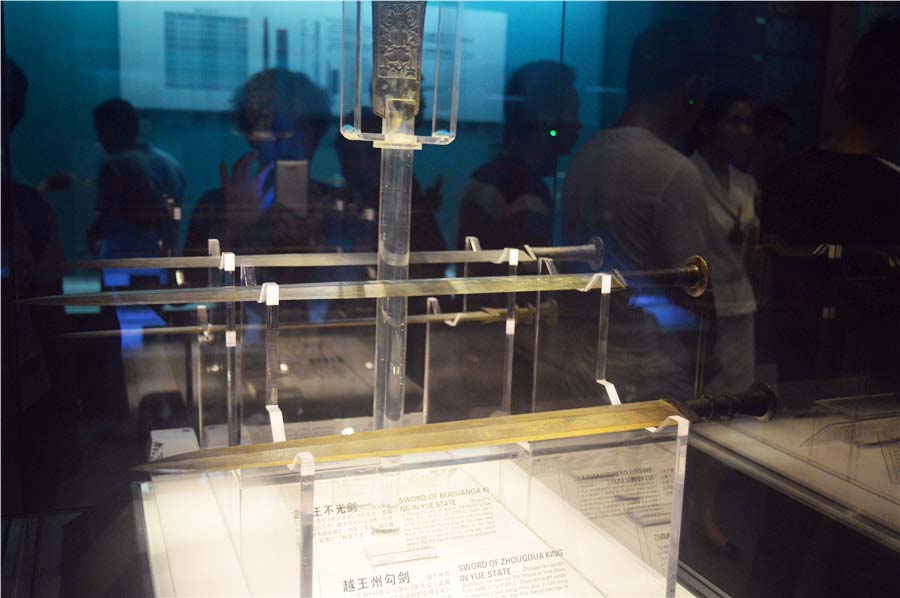 The sword of Zhougou, a King of the Yue State during the Warring States period, on display at the Jingzhou Museum. [Photo by Liu Xuanyi/chinadaily.com.cn]
He also had made great achievements in the artistic field, which was mainly demonstrated in music, dancing, paintings and sculptures. Its civilization can be compared to the ancient Greek and Athenian culture in Europe.
Chime bells unearthed from the tomb of Yi, a high official of the ancient State Zeng at Suizhou, are gems among the ancient musical instruments in the world. They are praised as "one of the eighth miracle in the ancient world".
The Tonglushan Relic of the ancient mineral smelting at Daye is the largest and oldest mineral-smelting relic discovered in China. It has a history of 3,000 years and is called "the hometown of bronze".
The Jingzhou Museum is the best place to learn about the ancient Chu culture. Founded in 1958, there are more than 130,000 relics displayed at the museum, which include bronze, pottery, lacquer, silk fabrics, jade and bamboo slips.
Permanent exhibitions include The Exhibition of Relics in Prehistory, The Exhibition of Bronze in Jianghan Plain, The Exhibition of Bamboo Slips Excavated in Jingzhou, The Exhibition of Jade Excavated in Xiongjiazhong Tomb and The Treasure House.
King Chu's Mausoleum is another place to see the high level of ancient Chu culture. The marvelous big horse and chariot pit at the mausoleum is one of the greatest archeological discoveries in China.