Showcase of imperial China in Finland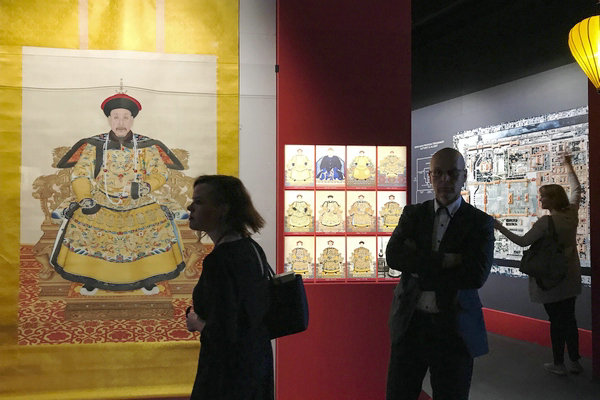 People visit an exhibition featuring Chinese historical relics preserved in Beijing's Palace Museum, in Tampere, Finland. [Photo provided to China Daily]
An exhibition, The Forbidden City-Life in the Court of Chinese Emperors, opened on Friday in Tampere, in southwestern Finland.
This is the first time that Chinese historical relics from the Palace Museum in Beijing are being exhibited in the Nordic region.
The Chinese red is the predominant color at the exhibition venues, which are decorated with Chinese elements such as lanterns, wood carvings and columns.
The relics on show include Emperor Qianlong's throne and robe, Emperor Kangxi's helmet and cotton amour, as well as incense burner tables and screens.
Marjo-Riitta Saloniemi, the exhibition manager at the Museum Center Vapriikki in Tampere, says in addition to local residents, visitors from Sweden, Estonia and neighboring countries are also expected to visit the exhibition.
The vice-president of the Palace Museum, Song Jirong, says even though the exhibition is not as large as previous ones held in other European countries, the exhibits are exquisite objects, with some being displayed abroad for the first time.