Reviving a sound from the past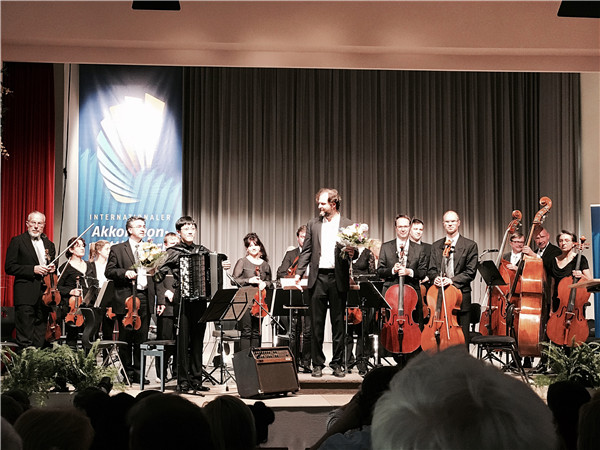 Accordion player Mao Junhao, 20, a junior student at the Central Conservatory of Music, performs concertos with an orchestra at the 54th Klingenthal International Accordion Competition held over May 15-21 in Germany. [Photo provided to China Daily]
The accordion is gaining popularity again after decades in obscurity, and Chinese students are even winning awards abroad. Chen Nan reports.
When Cao Xiaoqing started learning the accordion at the age of 5 in 1970, the instrument was very popular in China.
"You can play everything on it, pop songs, folk tunes and chords, and the instrument is portable," says Cao, 52.
Cao's uncle and father were amateur accordion players, who played the instrument at home.
However, in the past decades, other Western instruments, such as the piano, the violin and the cello, have dominated the classical music scene. The accordion has a small following among music learners in China.
So, when the Central Conservatory of Music launched its accordion major in 2004, Cao was invited to take the position as the first director of the accordion department at the school.
"I took the job because I wish to revive the instrument," says Cao, who taught at the Hochschule fuer Musik, Theater und Medien Hannover (Hanover University of Music, Drama and Media) in Germany from 2001 to 2003.
Cao graduated from the Tianjin Conservatory of Music in 1988 and later obtained his PhD from the Hanover University of Music, Drama and Media in 2001.
In May, four of his students stood out among 78 competitors from 22 countries and dominated the 54th Klingenthal International Accordion Competition, which was held from May 15 to 21 in Germany.
"It's the first time in this competition that four first prizes were awarded to students from one country, let alone from the same school," says Cao.
"Ever since the accordion performance major was launched in 2004, we have sent students to the Klingenthal International Accordion Competition. Some of them had won prizes previously, but this year is a milestone for us. It's like a dream come true for me."