7th China Children's Theater Festival kicks off in Beijing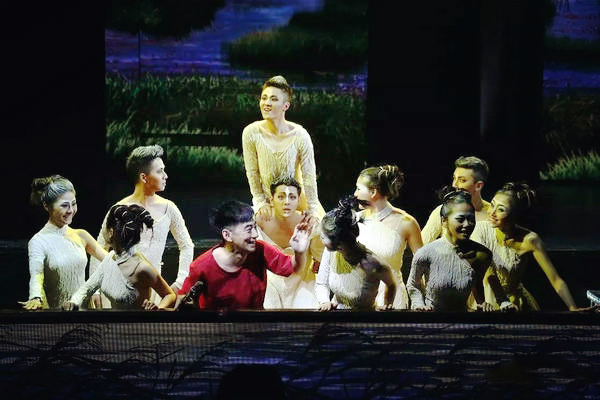 Drama adaptation Goat Do Not Eat Heaven Grass was shown at the opening ceremony of the 7th China Children's Theater Festival, Beijing, July 7, 2017. [Photo/cntc.org.cn] 
The 7th China Children's Theater Festival was unveiled in Beijing on July 7. Forty-eight plays from nine countries and 27 regions will be featured during the 45-day festival.
The festival is being simultaneously held in Jinan and Chengdu, which will attract 1.6 million people.
According to Yin Xiaodong, the head of the China National Theatre for Children, the festival for 2017 will feature a forum on the development of international children's plays for the first time.
The theatre will also work with the Palace Museum to launch a summer camp for children, giving them a chance to visit the museum and appreciate children's plays throughout the summer holiday.
The festival opened with a drama adaptation of Hans Christian Andersen award winner Cao Wenxuan's book Goat Do Not Eat Heaven Grass on July 7.
The book centers on the hard life and adventures of a boy named Ming Zi who was driven away from a remote rural area to work in a big city.
Yin said the reason he chose to adapt this work is the poetic and deep thinking seen as the boy faced obstacles. The book doesn't intentionally hide the tragedies in daily lives and the sorrows that children may suffer. It emphasizes finding the bright side of human nature and those precise characters despite difficulties and challenges.
"We want to let children learn more about the life mirrored in Cao's novel," Yin said.
"We have faith in adapting a successful drama and give a good experience to children who don't often go to theater."