'Miss Puff' coming to big screen in August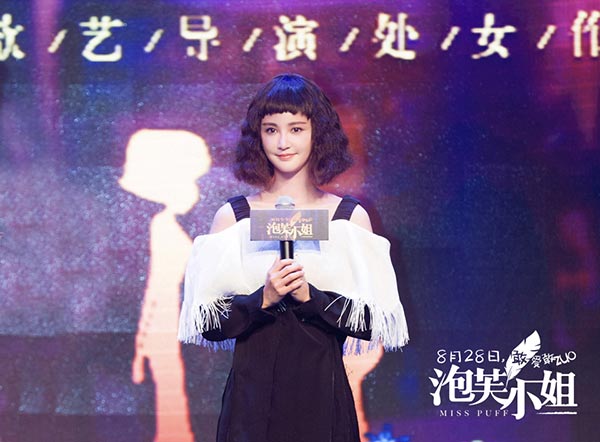 Actess Zhang Xinyi [Photo provided to China Daily]
Animated series Miss Puff, a popular title described as China's Sex and the City, will see a live-action cinematic adaptation to hit screens in August.
The feature-length movie is helmed by actress-turned director Zhang Xinyi, in her directorial debut in a career spanning more than 10 years.
Zhang, best known for the hit TV drama Beijing Love Story, is followed by more than 16 million fans on Sina Weibo, China's answer to Twitter.
Zhang also stars in the title role, Miss Puff, the nickname of a strong and self-sufficient woman with an overseas education.
Set in a big city, the movie centers on the protagonist's romantic adventures.
Pi San, the movie's art consultant and the animated series' director, says Miss Puff exemplifies the rising population of elite Chinese women, who are pursuing career success as well as genuine love.
Zhang, 36, says she is the youngest leader of the movie's 300-member crew.
"The experience is very precious to me. During the past years, I had passed the director's monitor many times, but hardly pictured that I would one day sit behind that," she says.
"The movie relives one of my favorite roles on the big screen and it also shows what true love should be in my mind," she adds.
The 104-episode, eight-season animated series Miss Puff, which began to run on the video-streaming site Youku in 2010, has been watched over 1 billion times.
The movie will be released on the day of the Qixi Festival, which will fall on Aug 28 this year.