Theater marks anniversary with Bard's comedy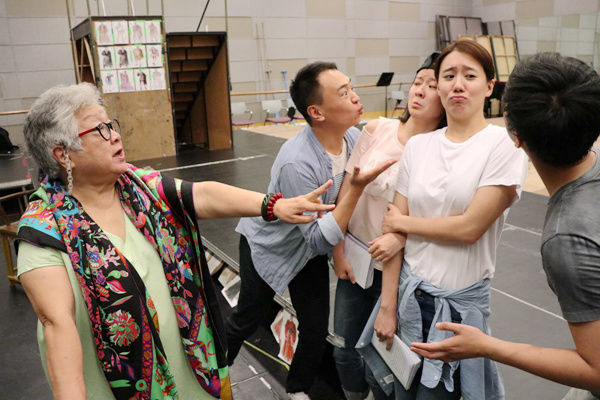 Director Chen Xinyi (left) instructs young performers at the rehearsal of The Merchant of Venice, a new production by Beijing Comedy Theater. [Photo/China Daily]
Beijing Comedy Theater will mark its second anniversary on July 16 by performing William Shakespeare's comedy The Merchant of Venice from July 11 to 30.
The theater is a joint operation with three partners - the National Center for the Performing Arts, DaDao Culture, which was founded by Chinese comedy actor and director Chen Peisi, and the venue itself.
"In this busy city, the theater brings laughs and energy to people living here. The past two years are the best proof that we were right to offer a specialized comedy theater to the public," says Chen, the artistic director of the theater.
"We did not just introduce original Chinese comedy productions but also foreign ones."
Chen, who is a household name for his TV sketch comedy, opened the theater in 2015 with his directorial work The Stage.
The play won accolades and has toured the country over the past two years.
Many acclaimed works have also been staged, including the slapstick Mahua FunAge series and dark, thought-provoking satires like President's Invitation and The Donkey.
The theater's president Jiang Haiyan says it has presented 74 productions with a total of 433 performances.
Audience attendance has totaled 740,000, which translates to an average of 70 percent of capacity - a very good showing by Chinese standards.
And box-office takings totaled 58.6 million yuan ($8.6 million).
NCPA vice-president Li Zhixiang says: "As the fifth venue of the NCPA, Beijing Comedy Theater has drawn audiences for its exclusive devotion to comedy.
"The program schedule is set until March 2018. And we have witnessed a strong comedy community growing - comprising both performers and audiences."
The Merchant of Venice will be performed by young actors from the NCPA drama team and directed by Chen Xinyi.
"The Merchant of Venice involves people of different social classes. It makes you laugh and think at the same time," says the director, whose works range from operas and plays to musicals.
"The play is particularly suitable for contemporary audiences, who live in a world of materialism. There are also love, friendship and the virtue of businessmen, which will relate to today's audiences.
"I have directed four Shakespeare plays working with the NCPA. And I love Shakespeare's plays, which are great material for young actors and directors."
A live band, including a cellist, a violinist and a trumpet player, will also perform at the show.
Meanwhile, instead of inviting celebrity actors to draw audiences, the director has young actors.
Beijing Comedy Theater will hold an open-day event on July 16 for audiences to interact with artists, including artistic director Chen Peisi and Chen Xinyi.
If you go
7:30 pm, July 11-30. Beijing Comedy Theater, 11 Chaoyangmen North Street, Dongcheng district, Beijing. 400-610-3721.