Sand animation on show in Beijing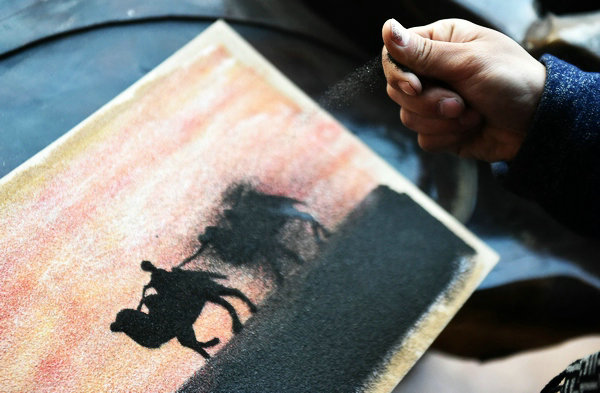 The artist creates a piece of sand painting. [Photo/Xinhua]
A Spanish sand painting performance is one of the highlights of the 17th Meet in Beijing Arts Festival.
Set in a dreamland created by artist Borja González, the show is on at the Nine Theater in Chaoyang Cultural Center May 20 and 21.
The sand painting sequence invites the audience on an emotional journey across the world, encouraging them to reflect on the feelings, experiences and memories shared along the way.
The show is accompanied by live music, composed by Roc Sala (piano) with Francesc Pugès (cello, double bass, musical saw) and Alexandre Guitart (percussions, baglama, rubab).
Borja González showcases his exceptional talent in the 80-minutes' performance. It transcends language and national boundaries, building a magical world that integrates sand paintings, live music, and puppet shows.
The boom of sand painting in the 21st century began with Ferenc Cakó, a Hungarian artist whose specialty is performing sand animation. By shifting sand painting creation venues from beaches to sand boxes, Cakó brings the audience much closer to this artistic form. His passion for music, stage craft and technology is also shown in sand animation, offering people a powerful spectacle, stunning in both sight and sound.
If you go:
May 20 - 21. TNT Theatre, 9 Theatre, Chaoyang District Culture Center.