Saving a Uygur music treasure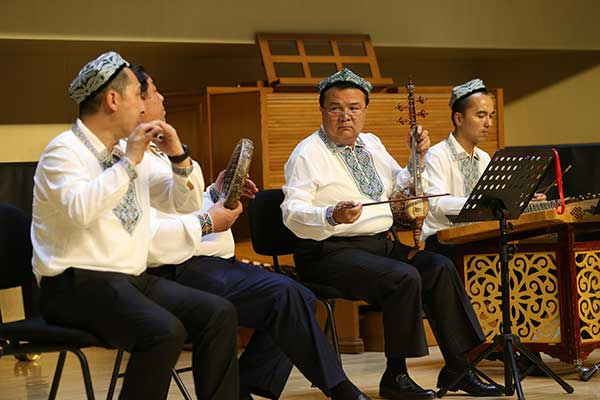 Teachers from the Xinjiang Arts University perform muqam at a recent concert at the Central Conservatory of Music in Beijing.[Photo by Feng Yongbin / China Daily]
Muqam is facing a threat to its existence, but efforts to revive it are in progress. Chen Nan reports.
It was a brilliant evening. Onstage, with the dutar and the tanbur (both traditional Uygur plucked-stringed instruments), Abduweli Sataer and Alipu Sedike, two musicians from the Xinjiang Uygur autonomous region, showcased unusual sounds in the concert hall of the Central Conservatory of Music in Beijing.
"My heart was stolen by a girl. She broke my heart," sing the duo in Uygur with the audience clapping to the beat.
Later, they were joined by singer Ayixianmugul Mxmet, and instrumentalists Abduklimu Usman and Ahmetjan Mehmet, and perform folk music from Xinjiang, including songs like Uergulai and There Is No Moon in Your Sky.
The artists are teachers at the Xinjiang Arts University and what they performed that night is muqam, a traditional type of music from Xinjiang.
"If you spend only one night in Xinjiang, one way to enjoy authentic Uygur culture is to take in a muqam performance. It has a wide range of musical content, choreography, musical styles and instruments," says Abudusaimi Abudureheman.
The Xinjiang Arts University professor, who is both the host of the show and plays the rawap (a plucked Uygur instrument) onstage, also speaks the next day about muqam, calling for awareness of its protection. It's facing a threat to its existence like many traditional Chinese art forms.
The performance and speech are part of the inaugural Music Education Alliance Across the Silk Road conference, which was initiated and organized by the Central Conservatory of Music in Beijing from May 5 to 7.
Nearly 30 music schools from China and countries along the Silk Road, a byword for economic trade and cultural exchanges between Asia and Europe, were part of the event.
Muqam has 12 sets of melodic formulas. It was developed during the Tang Dynasty (618-906). The songs vary in rhyme and are performed by soloists as well as by ensembles.
The muqam music system developed over millennia has also led to the growth of many musical genres among the people of Eurasia and North Africa.