Ming dynasty bowl and imperial tangka exhibited in Shanghai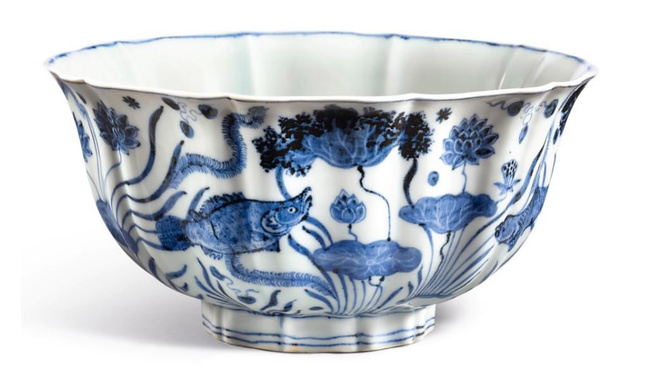 The blue and white "fish pond" bowl [Photo/Sotheby's Auction House]
The exhibition "Emperor Yongle's World" kicked off on Friday at the Shanghai-based Long Museum, depicting the peak of the imperial history of the Ming dynasty (1368 AD - 1645 AD) via brilliant antiques of the time.
The exhibition showcased fifteen antiques collected by the Long Museum during the reigns of Yongle and Xuande of the Ming Dynasty.
These antiques include an imperial embroidered tangka that cost 278 million yuan (45 million US dollars) at a Christie's sale in Hong Kong in 2014, along with the blue and white "fish pond" bowl sold for 229 million Hong Kong dollars (29.5 million US dollars) at a Sotheby's auction earlier this month in Hong Kong.
The private art museum, Long Museum, was founded by Liu Yiqian, a billionaire and collector, and his wife Wang Wei. The museum has two locations in Shanghai: Long Museum Pudong and the Long Museum West Bund.
In 2014, Liu bought the Chenghua "chicken cup," a Ming dynasty porcelain piece, for 281.2 million Hong Kong dollars (36.2 million US dollars), the highest record for Ming dynasty Chinese porcelain at an auction market.
The exhibition runs until August 27 and marks the conclusion of the trilogy exhibition of Chinese ancient court art, following: "The World of Zhu Jianshen: The Life and Era of a Chinese Emperor - Chenghua Chicken Cup Exhibition" and "Times of Prosperity—The Imperial Art of High Qing".