Cross-dressing singer takes his act to US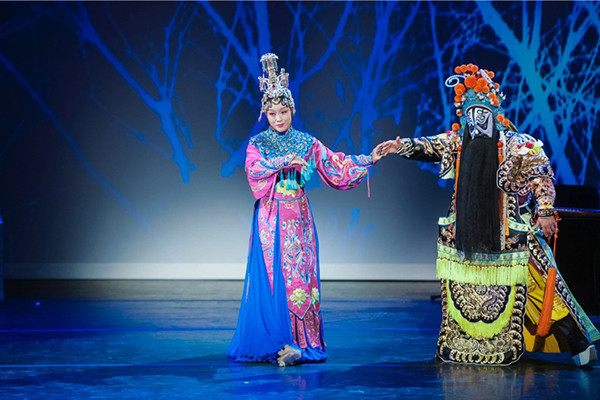 Li Yugang (left) performs on stage. [Photo provided to China Daily]
Chinese pop singer Li Yugang, who is known for his cross-dressing performances onstage, has launched his debut tour in the United States. He performed at New York University on April 18, which was followed by two shows on April 21 and April 23 at Pasadena Convention Center in Los Angeles.
The singer also gave a speech at the Harvard University on April 17, introducing his art and story.
"I want to introduce Chinese theatrical aesthetics to Western audiences. It's a big mission but I believe I can do it," said Li, who has performed outside China since 2006, including at the Sydney Opera House and Lincoln Center for the Performing Arts in New York.
He will also visit San Francisco and Toronto this year as part of his tour, reprising some of his classic female characters.
Born in a farming family in Northeast China's Jilin province, Li dropped out of a local performing arts school in 1996, unable to afford the tuition fee.
Li then left his hometown to make a living, first singing at pubs. He didn't meet with success until he substituted for a young woman singer, who was absent one night. It was a duet and Li sang both the male and female parts.
Since then, Li started doing female roles. He learned dancing and singing with professionals. His big break came in 2006, when he was a top finisher on Star Boulevard, a Chinese reality TV show.
With three studio albums behind him, he has performed twice on CCTV's highly watched annual Spring Festival Gala, in 2012 and 2013. His stage productions —The Painting of Four Beauties and Flower in Mirror, Moon in Water — have toured China and abroad.