In film that premiered Monday, girl dances to beat of a different drum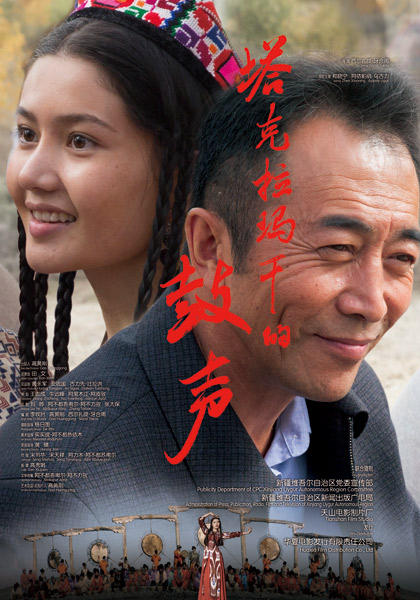 [Photo provided to China Daily]
Taklamakan's Drumbeat, a film produced by Tianshan Mountain Film Studio of Xinjiang Uygur autonomous region, premiered in Beijing on Monday at the Great Hall of the People.
Revolving around a young girl named Ayiguli who lives in a remote village near the Taklamakan Desert in the Xinjiang Uygur autonomous region, the film portrays her pursuit to become a dancer despite her parents' objections. With the help of a local village Party chief, Ayiguli fulfills her dream.
"There are nearly 300,000 Party chiefs working in over 10,000 villages across Xinjiang Uygur autonomous region who make great contributions to the local development and build a strong connection with local villagers. We want to dedicate this film to them," said Gao Huanggang, president of the film studio, which was founded in 1959 and has produced over 100 films and translated about 2,600 movies, documentaries and TV shows of the Uygur language into Mandarin.
Silzati Yakov, the film's director and one of the screenwriters, said he, the cast and production team visited villages near the Taklamakan Desert to look for inspiration.
"We talked with villagers and local Party chiefs while observing their lives. It took us around two years to finish the production and we believe that audiences will see a real Xinjiang and the people living there from the film," said Yakov, who graduated from Beijing Film Academy in 1985 and works as a director for the studio. "The movie will showcase modern Xinjiang as a backdrop with its beautiful natural scenes, economic development and harmonious lives of the local people."