Zhang Yimou starts new film project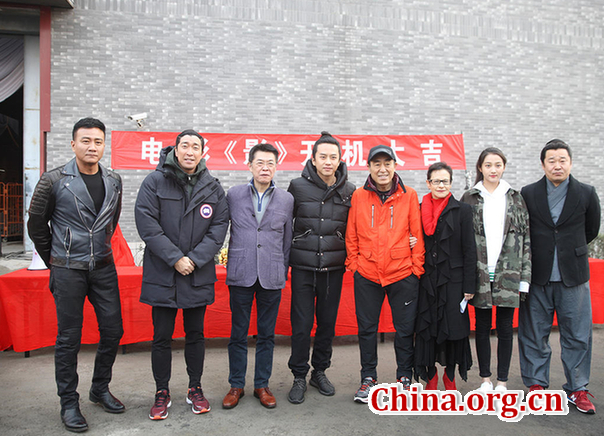 Cast members and director Zhang Yimou (fourth from right), CEO of Le Vision Pictures Zhang Zhao (third from left) and Ellen Eliasoph (third from right), President and CEO of Village Roadshow Pictures Asia attend the launch ceremony of the film Ying in Beijing, March 18, 2017. [Photo/China.org.cn]
Eminent Chinese director Zhang Yimou started filming his new movie project in Beijing on Saturday, having recruited a stellar cast including Deng Chao and Wang Qianyuan.
The storyline of the new film, entitled Ying (literally translated as "Shadow"), is being kept secret. Zhang polished the script over a period of three years, while the preparations for filming occupied one year before the cameras started rolling.
Village Roadshow Pictures Asia and Le Vision Pictures are co-producing it.
During a public appearance at the Loyola Marymount School of Film and TV in Los Angeles last month, Zhang mentioned he was working on a then-untitled historical drama focusing on the Three Kingdoms period in Chinese history, which refers to a 60-year span in the 3rd century, when the Kingdoms of Wei, Shu and Wu dominated what areas of today's Central, South and East China. It has been reported that Ying focuses on the Kingdom of Shu.
Actors Deng Chao, Hu Jun, Wang Qianyuan, Guan Xiaotong and Wang Jingchun along with Zhang Yimou, CEO of Le Vision Pictures Zhang Zhao and Ellen Eliasoph, President and CEO of Village Roadshow Pictures Asia showed up at the launch ceremony of the film in Beijing last Saturday.
It was announced that actors Zheng Kai and Wu Lei are also involved in the project, while top actress Gong Li is also rumored to be joining later.
Filming will last two months at the Han City Studio, Zaoyang city, Hubei province.
Zhang Yimou's last significant Chinese-American co-production The Great Wall has so far been a colossal disappointment, receiving mixed reviews and making only $44.75 million in the North American market and $170 million in China. The Hollywood Reporter suggested in one of its reports that the studios involved may suffer a total loss of more than $75 million.
Related:
Pop star to release action film about wine