Reading the future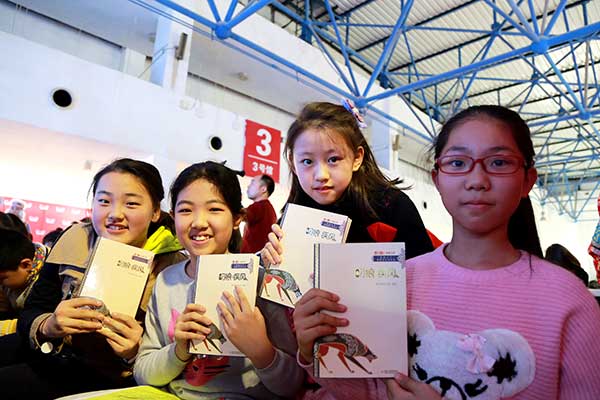 School children attend the recently-concluded 30th Beijing Book Fair with newly published books. Kids' books are the fastest-growing genre and account for the largest market segment.[Photo provided to China Daily]
A recent book fair points toward emerging publishing trends. Xing Yi and Mei Jia report.
The recently concluded 30th Beijing Book Fair examined not only the recent past but also the near future.
The January fair is viewed as a compass of the domestic market in the coming year.
A highlight was the BBF Top Forum of China Press and Publishers, co-hosted by the fair's organizing committee and China Publishing & Media Journal.
Hot spots in Chinese publishing will include literature - both translated and in original Chinese, the journal's president Wu Xusheng says.
Also popular will be "chicken-noodle soup" books on psychology and life outlook. Books about science, and particularly artificial intelligence, will be big. So, too, will be kids books, especially titles dealing with art education.
More books will be integrated with augmented and virtual reality, Wu adds.
He expects last year's strong performance of calligraphy titles to extend into 2017. This reveals a potent demand for traditional-culture themes, Wu points out.
Industry monitor Openbook also released its annual report on China's 2016 market, based on data from over 3,000 bookstores and major online-retail websites.
It says the market exceeded 70 billion yuan ($10 billion), an increase of 12.3 percent year-on-year.
Online book sales contributed 36.5 billion yuan to the market, marking the first time online sales surpassed offline sales.