Artful rooster struts on new postal issue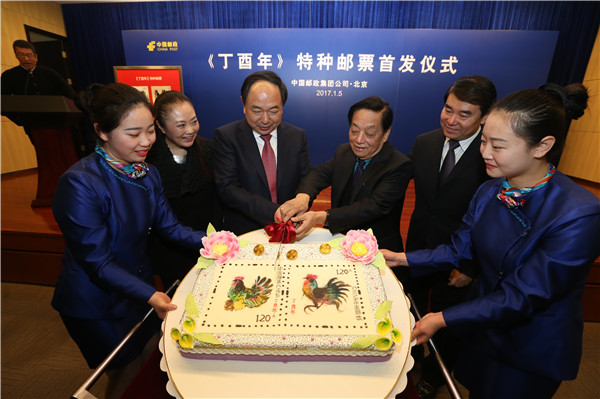 Han Meilin (center) attends the launch ceremony of the stamps for the Year of the Rooster in Beijing. [Photo by Jiang Dong/China Daily]
A set of two stamps to celebrate the upcoming Chinese Year of the Rooster were released nationwide on Thursday by China Post, the State-owned postal service and logistics operator.
The stamps are designed by prolific Chinese artist Han Meilin, 80, who is also the chief designer of Fuwa, the mascots for the Beijing Olympic Games in 2008.
One stamp shows a rooster raising its head and on the run, symbolizing the country in progress. The other portrays an amiable hen caring for two chicks, which conveys a wish for family happiness. Each is priced at 1.2 yuan (17 US cents).
"The two stamps combined reflect a pursuit of national prosperity and personal diligence that have been rooted in the heart of Chinese people for generations," Li Pizheng, deputy general manager of China Post, said at the launch ceremony in Beijing on Thursday.
"The stamps show brilliant craftsmanship, and the design is down to earth, reflecting ordinary people's tastes," he adds.
Han says he has been collecting postage stamps since 1956, and he drew hundreds of drafts for the rooster-themed set.
Han also designed the zodiac stamps for the Year of the Pig in 1983.
Since 1980, China Post has been issuing an annual set of stamps corresponding to the 12 Chinese zodiac animals, each of which is assigned to a lunar calender year in the cycle.
The stamps for the current Year of the Monkey were designed by 93-year-old artist Huang Yongyu.
The Year of the Rooster will begin on Jan 28 and end on Feb 15, 2018. It is also termed as the Year of Ding-you, according to the Chinese numbering system of Stems and Branches that includes 60 terms in a cycle.
Ancient Chinese hailed the rooster as a virtuous fowl because before the invention of alarm clocks, people depended on this animal to announce the arrival of a new day, regardless of the weather.
The rooster is called "ji" in Chinese, a character meaning auspiciousness, thereby making it a popular subject in folk artworks, such as paper cutting and traditional New Year paintings.
Gao Shan, an official of China Post's circulation department, says the zodiac animal stamps have been well-received among collectors: Many will line up for hours to buy the first issues and first-day covers at post offices.
He says people now can also order the stamps at China Post's online shops.