Comedy may be a winner again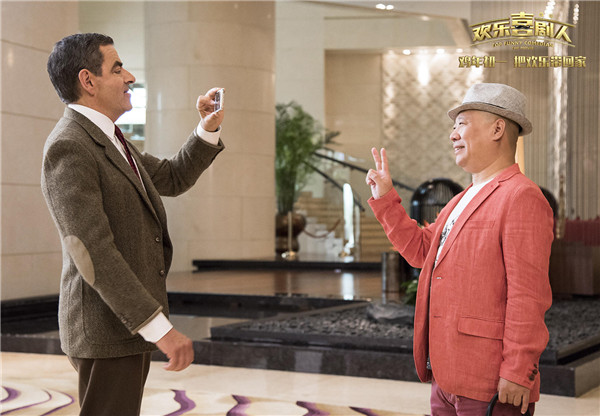 Top Funny Comedian The Movie, featuring British actor Rowan Atkinson and Chinese comedian Guo Degang. [Photo provided to China Daily]
The upcoming Spring Festival is seen as a 'golden period' for films. Nine flicks, including seven laugh riots, are slated to premiere on Jan 28. Xu Fan reports.
With the Chinese Lunar New Year around the corner, the pre-festival "battle" to capture the world's most populous movie market is kicking off. The upcoming Spring Festival falls on Jan 28 and expands into a weeklong national holiday, which is seen as a "golden period" for cinemas.
So far, nine films are expected to premiere simultaneously on Jan 28-a new high in recent years. In 2016 the number was three. It was seven in 2015 and five in 2014.
Last year, blockbusters released during the Spring Festival-from Feb 8 to 14-raked in 3.4 billion yuan ($489 million) in a week, making February the Middle Kingdom's most glorious moment in film history as China overtook North America to become the world's largest movie market that month.
So will there be a "miracle" this year to rescue China's stagnant movie market?
For industry insiders, this year's Spring Festival week has more significance than just being profitable.
The just-concluded New Year holiday over Jan 1-3 saw a year-on-year drop of 30 percent in box-office takings, another blow to the sector following the plunge seen over September-December. So, China's fatigued film market has never been so desperate for a revival.