Chinese ethnic costumes shine in Colombia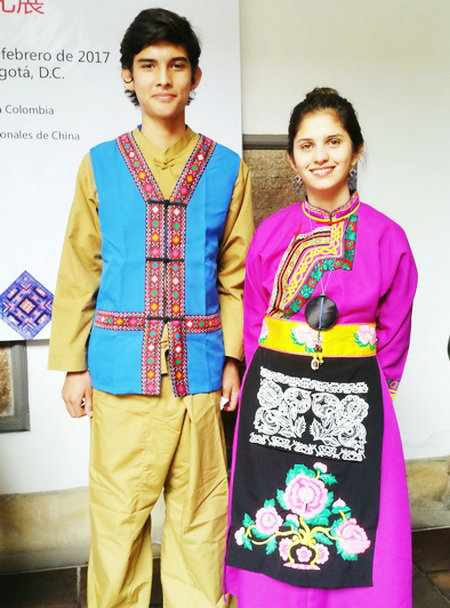 Two Colombian young people in Chinese ethnic costumes at the exhibition in Colombia, Dec 1, 2016.[Photo/Chinaculture.org]
An exhibition featuring 115 costumes, masks and accessories of Chinese ethnic groups was held in the Republic of Colombia on Dec 1.
The event was part of the 2016 China-Latin America and Caribbean Culture Year, and aimed to enhance the cultural exchange between China and Colombia.
The showpieces included clothes and jewelry for special festivals and also items connected with ethnic ancestors, families, faith and history.
Visitors were allowed to try some of the pieces.
Zhao Xiaoming, Chinese ambassador to Colombia, Tao Ying, deputy director-general of the Culture Palace of Nationalities of China, and Luis Armon Soto, director of the Culture Department of the Ministry of Foreign Affairs of Colombia and other Chinese and Colombian officials attended the exhibition's opening ceremony.
"Despite the long distance between China and Colombia, people from the two countries now have a stronger will to know about each other. We hope the event will narrow the distance and let Colombian people see more Chinese culture," Zhao said.