Joint art exhibition opens to celebrate 25 years of Brunei-China relations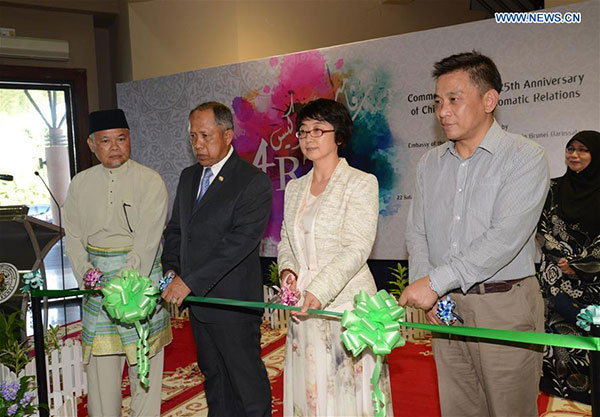 Hj Awang Halbi (2nd from left), Brunei's Minister of Culture, Youth and Sports and Yang Jian (2nd from right), Chinese ambassador to Brunei cut the ribbon during the opening ceremony of a joint exhibition, in Bandar Seri Begawan, capital of Brunei, on Nov. 22, 2016. Thirty-nine pieces of art work by 13 artists from Brunei and China went on display at a joint exhibition on Tuesday afternoon at the Brunei Darussalam Maritime Museum, marking 25 years of diplomatic relations between Brunei and China, while at the same time promoting art exchanges and friendship between both countries. [Photo/Xinhua]
Thirty-nine pieces of art work by 13 artists from Brunei and China went on display at a joint exhibition on Tuesday afternoon at the Brunei Darussalam Maritime Museum.
Organized by the Chinese Embassy here and Brunei's Ministry of Culture, Youth and Sports, the month-long exhibition marks 25 years of diplomatic relations between Brunei and China, while at the same time promoting art exchanges and friendship between both countries.
Since China and Brunei established diplomatic relations in 1991, bilateral exchanges and cooperation have been expanding on the basis of traditional friendship. However, "the exchanges in the field of art between China and Brunei have not been frequent over the past 25 years. The exhibition today could be regarded as an innovative step to promote the understanding between the two sides", Yang Jian, Chinese ambassador to Brunei told Xinhua at the exhibition.
The art exchanges have opened up a new chapter since last year, when three artists from China Academy of Arts (CAA) visited Brunei last year. And in April this year, a delegation of Brunei artists had exchanges with their CAA counterparts, during a 10-day trip to China. In July, another five CAA painters came to Brunei for discussions with local artists, and to capture their impressions of Brunei on canvas.
"I believe that the artists were deeply impressed by the ethos of the other country", the ambassador said.
"It is my hope that this exhibition will become a new beginning of the art exchanges between China and Brunei, and with more people-to-people exchanges, the friendship between our two peoples will be continuously promoted", she added.