The unmasking of Nuo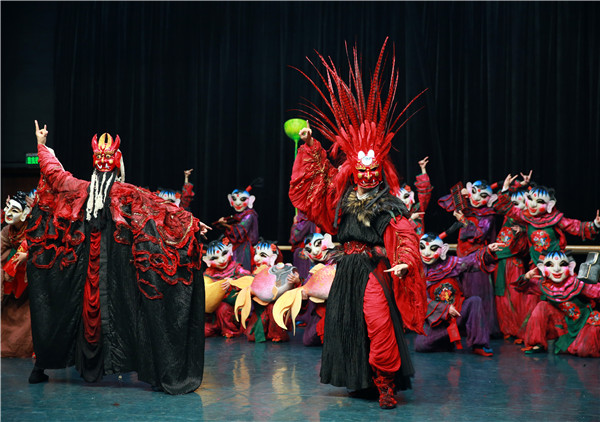 Nuo Emotion, produced by Beijing Dance Academy, combines contemporary dance moves with elements of ancient Nuo Opera. ZOU HONG/CHINA DAILY
After the show in London, Guo took the students to his hometown to explain more about the opera.
In the past three years, they have visited Nanfeng a few times and spent months with the dancers of the Nanfeng Nuo Opera Troupe.
That's how the academy's association with Luo developed.
Guo says the folk tradition that has evolved over thousands of years has been passed down generations.
A Nuo performance can last for days with the practitioners telling folk tales through chants, songs or dance.
Nanfeng is known for Nuo dance. When the performers put on the masks, they don't talk or sing during dancing in reverence of the gods. The instruments accompanying the dance are drums and gongs.
The academy's dancers were amazed by the art form when they visited Shiyou village, says Wu Shuai, executive director of Nuo Emotion. All the villagers and people from nearby gathered at a temple, which was built in 1781 for the gods of Nuo. Some families had even invited the troupe to perform at their homes.
"We only have eight people in the troupe and we danced 24 hours during the Spring Festival," says troupe director and village head, Ye Genming.
The 49-year-old started to learn Nuo as a teenager. He says the tradition of inviting Nuo troupes to perform at people's homes goes back to the Ming Dynasty (1368-1644).
How to pass on the ancient tradition is a serious issue for Ye. When he first started as a Nuo performer in the 1980s, there were more than 100 Nuo troupes in Nanfeng. Only a few are left.
To save the old art, Ye opened a school to train young enthusiasts in 2006. It has trained 60 students.
"Fewer young people are learning it because they are more attracted to modern things," says Ye. "But we are still trying to preserve the culture of Nuo."
Contact the writer at chennan@chinadaily.com.cn
If you go
7:30 pm, Monday. National Center for the Performing Arts, 2 West Chang'an Avenue, Xicheng district, Beijing. 010-6655-0000.