Earliest site of coal fuel found in Xinjiang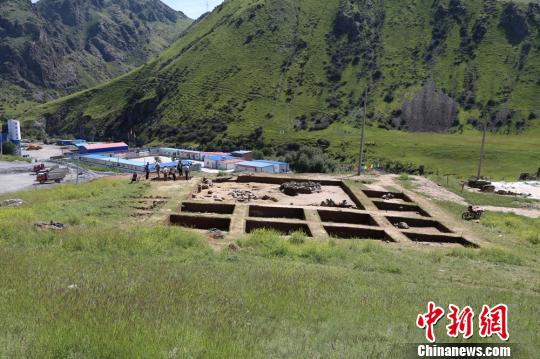 The archaeological site of Jiren Taigoukou is seen in Nilka county in Xinjiang Uygur autonomous region. [Photo/Chinanews.com]
The earliest site where coal was used as fuel was discovered in Nilka county of Xinjiang Uygur autonomous region, which are thought to date from more than 3,000 years ago, say archaeologists excavating the Jiren Taigoukou Ruins, according to Chinanews.com.
A great deal of coal ash, coal particles and unburned sheets of coal, as well as a kitchen and ashcan used by ancient people for cooking and warmth, were found at the site. Archaeologists think they are from the Bronze Age, 3,500 years ago. This has pushed China's history of using coal forward by more than 1,000 years.
Ruan Qiurong, a director of the Xinjiang Institute of Cultural Relics and Archaeology, said that the earliest coal discovery in China was that of coal and carbon crystals that were used as jewelry during the Neolithic Age, 6,000-7,000 years ago. According to the historical record, coal was widely used in industrial production and for everyday use during the Han Dynasty (206 BC-AD 24).
The Jiren Taigoukou Ruins is surrounded by high mountains on two sides, north to the Kashi River and west to the canyon mouth, giving it a superior geographical environment and fine climate. That made it an ideal place for husbandry.
Ruan said the remains of 14 houses have been found at the site, and over 2,000 square meters have been excavated.
"The whole site is like a tribe and has different functional houses, which were used for living, gathering or production", Ruan said. "The discovery of such an old-lined, well-preserved and large-scale ruins marks a great find along the archaeological history of Xinjiang, which has high research value."
The whole excavation will take another two years, according to Ruan. The discovery of the site from the Bronze Age, as well as the findings of coal use ruins and other copper making ruins, have provided new material for the study of ancient bronze smelting techniques in Xinjiang, or even Central Asia.