Taste of Chinese culinary culture in Berlin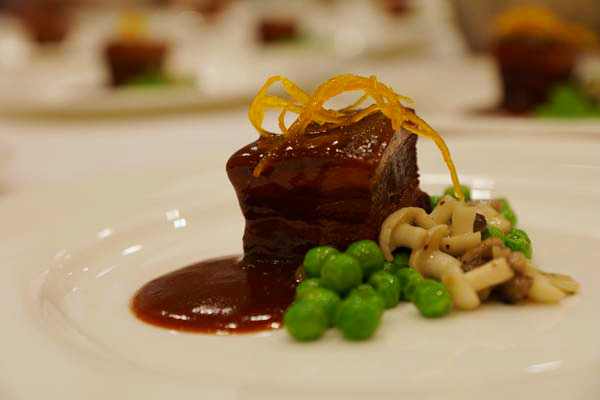 Nanrurou, pork cooked with fermented bean curd. [Photo/Chinaculture.org]
A feast of Chinese cuisine was staged at the Chinese Embassy in Germany on Oct 28 to promote Chinese culinary culture and encourage China-Germany ties.
More than 10 first rate chefs from the China National Culinary Team served over 70 guests with authentic and high-end Chinese treats at the Tasting Chinese Culinary Culture event. Some of the stunning dishes included spicy Sichuan Dandan Noodles, Nanrurou (pork with fermented bean curd) and wensi doufu, a traditional tofu dish from East China that dates back to the Qing Dynasty (1644 -1911).
The China National Culinary Team just grabbed three silver awards at the recent 2016 IKA Culinary Olympics, one of the most elite and competitive culinary events in the world.
"The culinary art is an indispensable part of Chinese culture, and the culinary team today represents the highest level of Chinese cooking," said Chinese Ambassador to Germany Shi Mingde, while addressing the event attended by high-profile officials including Markus Ederer, state secretary of the German Federal Ministry for Foreign Affairs, David Gill, state secretary and head of Germany's Federal Presidential Office, and Joseph Fischer, former German Deputy Chancellor and Foreign Minister.
The banquet was well received by attendees.
"These top Chinese chefs brought us a gourmet feast tonight. It's the first of its kind in Berlin and we hope it will not be the last," said Minister Joseph Fischer.