Chinese teenage singer Leah Dou begins her first UK arena tour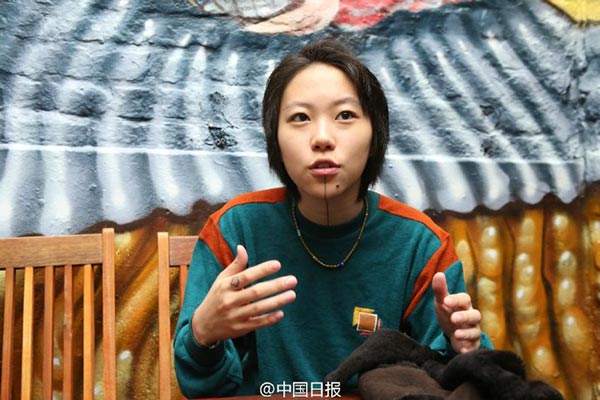 Chinese artist Leah Dou. [Photo/Official Weibo of China Daily]
When Leah Dou took to the small stage at The Wheatsheaf pub in Bedfordshire, England, last Saturday, none of the pub-goers were aware they were in the presence of Chinese pop royalty.
The unpublicized gig was set up by Dou's management as a warm-up ahead of her biggest performance yet outside of China. She sung free of pressure in front of a crowd that learnt of her for the first time through her music. Dou likes it that way.
"It means a lot to me," she tells China Daily. "I'm not annoyed or offended that I'm always introduced in the context of my family, but it's nice, it's refreshing to be introduced through my music, rather than something that's irrelevant to my music."
Beijing-based musician Dou is the daughter of diva Faye Wong and combustible rock star Dou Wei - a now-divorced musical couple equivalent to Beyoncé and Jay Z in terms of star power in China.
The 19 year old is performing major venues in the UK for the first time this week, supporting Indie-pop band Bastille on the British leg of their Wild Wild World Tour. On Wednesday, she plays the UK's second biggest indoor venue - London's O2 Arena - and on the weekend it's the country's largest in Manchester.
"I'm doing small pub gigs and then tomorrow is the O2 - it's crazy," she says, her tiny frame perched on a leather sofa at The Queen's Head pub in Central London. "The opportunity came up and I was really lucky to be able to join [Bastille] on tour. Just being able to tour somewhere out of China is really amazing for me, especially in the classic way, with everybody on a tour bus, I'm really excited for it."