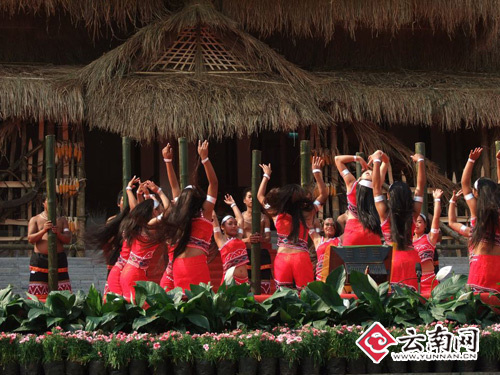 People of Wa Ethnic Group Tribe dance in this file photo. [Photo/yunnan.cn]
The musical The Wa Ethnic Group Tribe from Pu'er city, Yunnan province, recently premiered at the National Center for the Performing Arts and is on a national tour in other 11 cities, including Shanghai, Hangzhou and Shenyang.
The 80-minute performance demonstrates the Wa people's myths, legends, rituals, traditions and norms, and aims to promote Pu'er as a destination as well as the city's ethnic group culture.
All of the around 100 performers are from the Wa ethnic group. They range from professional dancers to folk artists to farmers, and they showcase the tribe's history and respect for nature.
Audiences can not only enjoy the traditional Wa ethnic group's musical instruments and melodies, but also the group's beautiful traditional costumes and accessories.