Author shines light on plight of migrant workers
Village life is not what it used to be.
Liang Hong's new book, Going Out of the Liang Village, documents life in today's villages, showing things are far from idyllic.
The rural hubs are fast emptying, with residents in the prime of their lives moving away.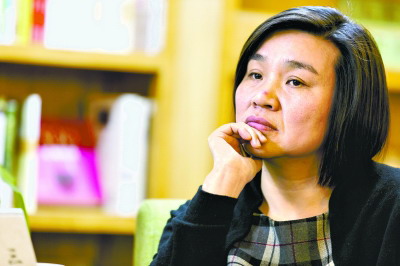 Author Liang Hong.
Liang, a professor of Chinese literature from China Youth University for Political Sciences, comes from Liang village in Henan province. She has spent the past two years trailing her former fellow villagers.
Many Liang villagers have left their land to become factory workers, oil pump mechanics, security guards and pedicab drivers in cities. Some have moved to the westernmost part of the Xinjiang Uygur autonomous region, some are in the southern Guangdong province, some in Inner Mongolia while some have traveled as far as Spain.
For the past 30 years, they have been abandoning the village, leaving their elderly parents and young children behind.
These migrant workers have no plans to return, but they haven't found a new home either, Liang says. The farmers-turned-wage-earners don't feel a sense of belonging in cities and still cling to their countrymen miles away from home.
The book profiles migrant workers from the village who still live together, mostly in makeshift housing because their lives are far from "permanent". They don't make new friends in their new homes, even though some of them have stayed in one place for 30 years.
"We are used to sticking to one cell phone number so that we don't lose touch," the 40-year-old author says. "The villagers are quick in ditching theirs, getting new numbers without notice as they move."
These people are estranged from the city.
"They are less respected because of their backgrounds. They're detached," Liang writes in the book.
The biggest problem, the author observes, is that they can't afford to have their family there.
When Liang traveled to Qingdao, Shandong province, she found only one child in a factory compound that is home to 2,000 couples.
Instead of finding a wife in their workplace, ideal spouses are those who come from the same hometown. And the ideal age to get married is under 25.
In a match-making experience Liang documented, a 20-something villager has to decide on his future wife over the four-day Chinese New Year holiday when he returns home.
"He would meet different girls in turn, talk about his earnings, lie about his family home (he doesn't have one) and settle everything before he leaves for work after the New Year," the author writes.
With personal stories she collected in 10 cities from more than 50 fellow villagers, Liang says it's the "fragmented country life existence they lead" that she sought to portray.
Her new book shows how they live their lives, earning money, throwing weddings, raising children and attending funerals.
The book is not the author's first attempt to document the country's rural reality.
Liang's first book, China in the Liang Village, features stories of those left behind, including undisciplined children who are growing up only to leave the village. The book was published to rave reviews in 2010.
"We're not just reading about the Liang village, we're reading a book on today's China," says Shi Zhanjun, critic and editor-in-chief of People's Literature.
Author Yan Lianke, who is known for his work on rural life, says Liang's two books are "rescuing the country's non-fiction".
"Thanks to Liang's books, we have a direct link with reality," he says. "The books show real love and caring for the group."
The author sums up the situation of this group of people: "The migrant workers are at a loss. On their own, they won't reflect on their place in the society."
"My mission is making their life known. I want to show the complexity of their existence."
The country has 250 million migrant workers, and they share the same woes, hopes and painful lives as the Liang villagers, the author says.
Going Out of the Liang Village is not yet available in English but a Japanese translation is under way.