Online book giveaways raise industry concerns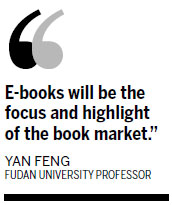 Publishing industry professionals have expressed concern over a number of online promotions in which copyrighted e-books are being sold for free.
China's largest online bookseller Dangdang.com is in the middle of a sales effort that includes almost all of its e-books being sold for free, from Wednesday to Friday.
Rival Jingdong Mall, announced on Wednesday that it also will offer 50,000 e-books for free.
Some leading names in the industry said that someone will have to pay in the end, and a resultant price war between the industry's main players could be hugely destructive to the sector.
According to local media, Chinese writer Feng Tang has already delivered a lawyer's letter to the retailers protesting about the giveaways, which he says is costing him a considerable amount in lost royalties.
Zhao Chen, from People's Literature Publishing House, told Beijing News that the promotion will bring harm to companies.
Wang Qian, a professor at the Intellectual Property School, East China University of Political Science and Law, told China Daily: "It's legal if Dangdang has the authors' authorization and paid them for that."
Dangdang's senior PR director Guo He said that the promotion had been approved by the company's legal department.
But Guo refused to confirm or deny whether it gained the permission of all the authors and publishers before starting the promotion.
Guo said that if they got complaints from content providers during the three days, they would pull the relevant free products out of respect.
"Basically, we are doing this because we want to draw more people into reading books, especially copyrighted e-books," Guo said.
As well as free e-book downloads, Dangdang is also offering 50 percent off printed books, to "celebrate the upcoming World Reading Day", Guo said, while denying the promotion had anything to do with the possible launch of the company's own e-reader.
Guo said his company considers there are only a small number of regular e-book readers in China and encouraged publishers to invest more time and money in the future marketing and selling of e-books.
"We share the same ambitions as the writers and publishers - to increase the number of potential consumers," he said, adding the short-term sales expected by the promotions would not affect the interests of either groups over the long term.
Zhang Hongbo, secretary-general of the China Written Works Copyright Society, the only collective copyright management organization for written works in the country, said the giveaways showed a sloppy approach to copyright if approvals had not been sought from copyright holders to offer their titles for free.
"I think it's hardly successful marketing if it's based on sacrificing the interests of copyright holders."
Zhang said the promotions also raised doubts, and showed a lack of faith in the development of the country's e-publishing industry, especially from the so-called traditional publishers.
Although the value of China's e-publishing industry reached 133.7 billion yuan ($21.6 billion) in 2011, Zhang said the share of e-books is still smaller than that of digital games and digital advertisements.
"Content providers in the country are weaker than the platforms and channels," Zhang said. "I fear this new tide of free e-book selling will cause them to have even lower confidence in the e-publishing business.
"That will bring bigger harm to the industry as a whole."
However, Yan Feng, a Fudan University professor and columnist on IT products and e-readers, said the giveaways was a good marketing tool to draw customers into buying Dangdang's other e-book products.
Yan said he had chosen 50 e-books in the promotion without being charged, while some of his friends seized 100.
"E-books will be the focus and highlight of the book market," Yan said, adding that Dangdang is simply attempting to create a foothold in that sector, faced with stiff competition from companies such as Jingdong and Amazon.
But he added that if the giveaways lasted too long, it could have negative effect on the industry and its own business.
As a reader, he said it would be more effective if online booksellers stopped "the price hype" and focused instead on improving the e-reading experience by using better design and editing.
"There's no such thing as a free lunch. A lot of effort goes into the launch of just one book. Price wars can only eventually harm book creators and producers," Yan said.