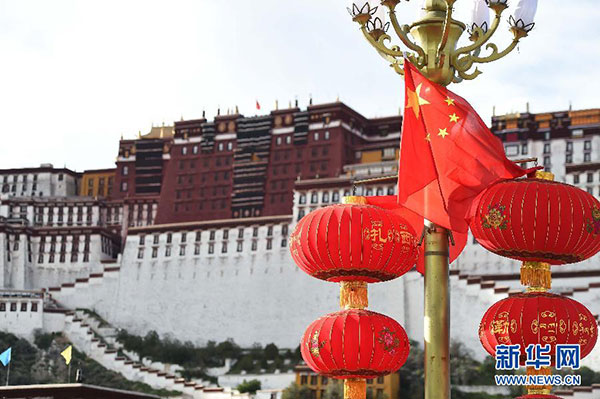 National flags and lanterns are seen on the Potala Palace Square in Lhasa, capital of Southwest China's Tibet autonomous region, Sept 5, 2015.[Photo/Xinhua] 
LHASA -- China has vowed greater resolve to end separatism and stressed adherence to the law in managing Tibet's religious affairs while celebrating the 50th anniversary of the founding of Tibet Autonomous Region on Tuesday.
"Tibet has achieved sustained stability after people of all ethnic groups steadfastly fought separatism, foiling the sabotage attempts of the 14th Dalai Lama clique and hostile international forces," top political advisor Yu Zhengsheng told a rally of senior officials and thousands of Tibetan people gathered at a celebration in front of the Potala Palace.
Border areas must be well managed to successfully govern the country, he stressed.
Stability in Tibet relies on the management of these areas, said Yu, chairman of the National Committee of the Chinese People's Political Consultative Conference.
Tibet is important in safeguarding national security, and it is in the interests of all the people of Tibet to maintain national unity and ethnic solidarity, he noted.
He vowed to "intensify the fight against separatism" and oppose all kinds of separatist activities.
One day before the celebration, Yu urged army, police and judicial staff in Tibet to be ready to fight a protracted battle against the 14th Dalai clique. Yu urged them to improve the "governing Tibet according to law", specifically dealing with separatist forces according to law.
"On one side, Chinese authorities are warning the 14th Dalai Lama to stop separatist activities, and on the other they are urging him at his advanced age to make a choice that is good for the nation and the people," said Wang Chunhuan, head of the Marxism-Leninism Research Institute of the Tibetan Academy of Social Sciences.
If a group stands opposed to the nation and people, the central authorities are resolved to fight a long battle against it, said Wang.
Yu, also a member of the Standing Committee of the Political Bureau of the Communist Party of China Central Committee, asked authorities to "stick to the rule of law," a strategic thinking championed by central authorities since late 2014.
"Law-based governance is the basic guarantee of the region's long-term stability," Yu said.
"Religious affairs should be managed according to law and problems should be addressed through legal means to maintain order in the practice of Tibetan Buddhism," he was quoted as saying.
Religion is an important aspect of the Tibetan civilization, and Yu's calls will help legalize the management of religion and protect people's normal religious beliefs and activities, said Pallbar Lhamo, a senior researcher of the Tibetan Academy of Social Sciences.
More importantly, managing religious affairs by law is an important transformation of method, said Pallbar Lhamo. "In the past, authorities managed religions by policy, now it is by law."
Increased income, improved army-people relations
Yu said the Chinese central government will continue to give special support for the Himalayan territory's economic development and narrow its gap with other regions.
The government will create more jobs and increase the Tibetan people's income, and give them more access to better education, housing and health care. He also stressed environmental protection.
In the past 50 years Tibetan regional GDP has grown 68 times and local financial income has increased 564-fold, he was quoted as saying.
He asked authorities to strengthen ethnic solidarity, which he called a "lifeline" and enhance Chinese people's national identity.
Yu praised the People's Liberation Army, People's Armed Police Force and the judicial staff in Tibet as loyal guardians of the national security and all people in the region.
He asked them to always put the people's interests as top priority and improve relations with the people.
Yu also told them to accomplish their missions and contribute more to Tibet's stability and prosperity.
After Yu's speech, more than 6,000 civilians, army and government staff joined a parade. Army, police and paramilitary troops marched through the square armed and in battle dress, while civilian formations walked wearing Tibetan attire, singing, dancing and releasing colorful balloons.
There have been road closures and traffic controls in place for the past four days, but citizens and tourists have mostly been able to move about freely.
Many foreigners gathered on streets near the square to watch the ceremony.